Use Xero's Lock Dates to stop people from making changes to transactions that were made in past periods.
After you set a lock date, users can't add or edit transactions in Xero if the transaction date is earlier than the lock date. Read more about Lock Dates in Xero here.
Note: You must have the 'Advisor' role in Xero to use Lock Dates.
In your Dext Prepare account:
Any items dated prior to that lock date can be published from Dext Prepare to Xero as:
Draft bills
Classic Expense Claims
Awaiting approval bills
Any items dated prior to that lock date cannot be published from the software to Xero as:
Spend Money transactions against any bank accounts.
If you try to publish an item to one of those sections in Xero, you'll see the following error message: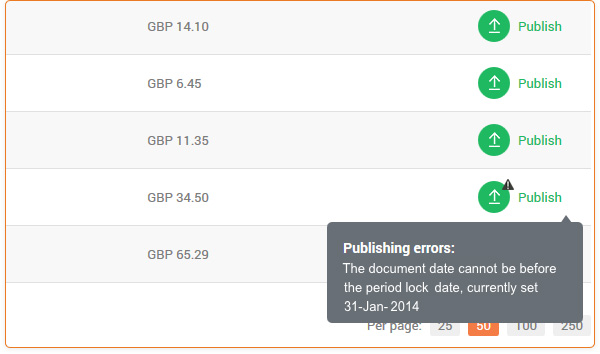 In your Xero account:
Use the 'Period Lock Date' setting in Xero to enforce this lock date in Dext Prepare.