This is a guide on how to connect your Sage 50 Canada company files with the Dext Connect desktop application. 
System Requirements:
Windows 8 and above
4GB RAM
Sage 50 Canada 2021 or newer
You must must be an administrator on your local computer or server
You must have a separate user account set up in Sage 50 to perform the integration with
You must be able to whitelist Dext Connect on your antivirus or firewall software
Installation location
You must install the Connect application in a location where:
The device is turned on and has access to a stable internet connection whenever Dext Prepare needs access to Sage 50 Canada
Stable access to the Sage 50 client files with a version of Sage 50 Canada installed on the same device.
If you are using Sage 50 on a virtual machine or remote desktop environment, work with your IT team to ensure the Dext Connect application will be online when you are working with Dext Prepare.
---
---
To download and install Dext Connect follow these steps:
1. Download Dext Connect here:
https://releases.receipt-bank.com/desktop/DextConnectAppSetup.exe
2. Double-click on the file to start the installer.
2a. When installing, Windows might display the following message: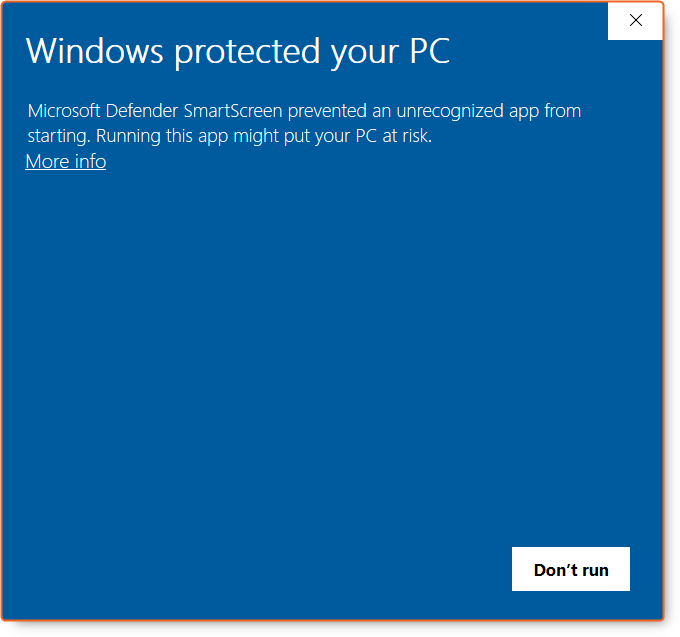 This is common for new software that has just been released. To continue click More info and then select Run anyway.
Agree to the License Agreement and select the installation folder. This must be on the same computer or server as Sage 50 is installed on.
3. Once installed, start the application from the desktop shortcut and log into your Dext Prepare account with your usual credentials. All integrations in Dext Connect should be performed on the same user login.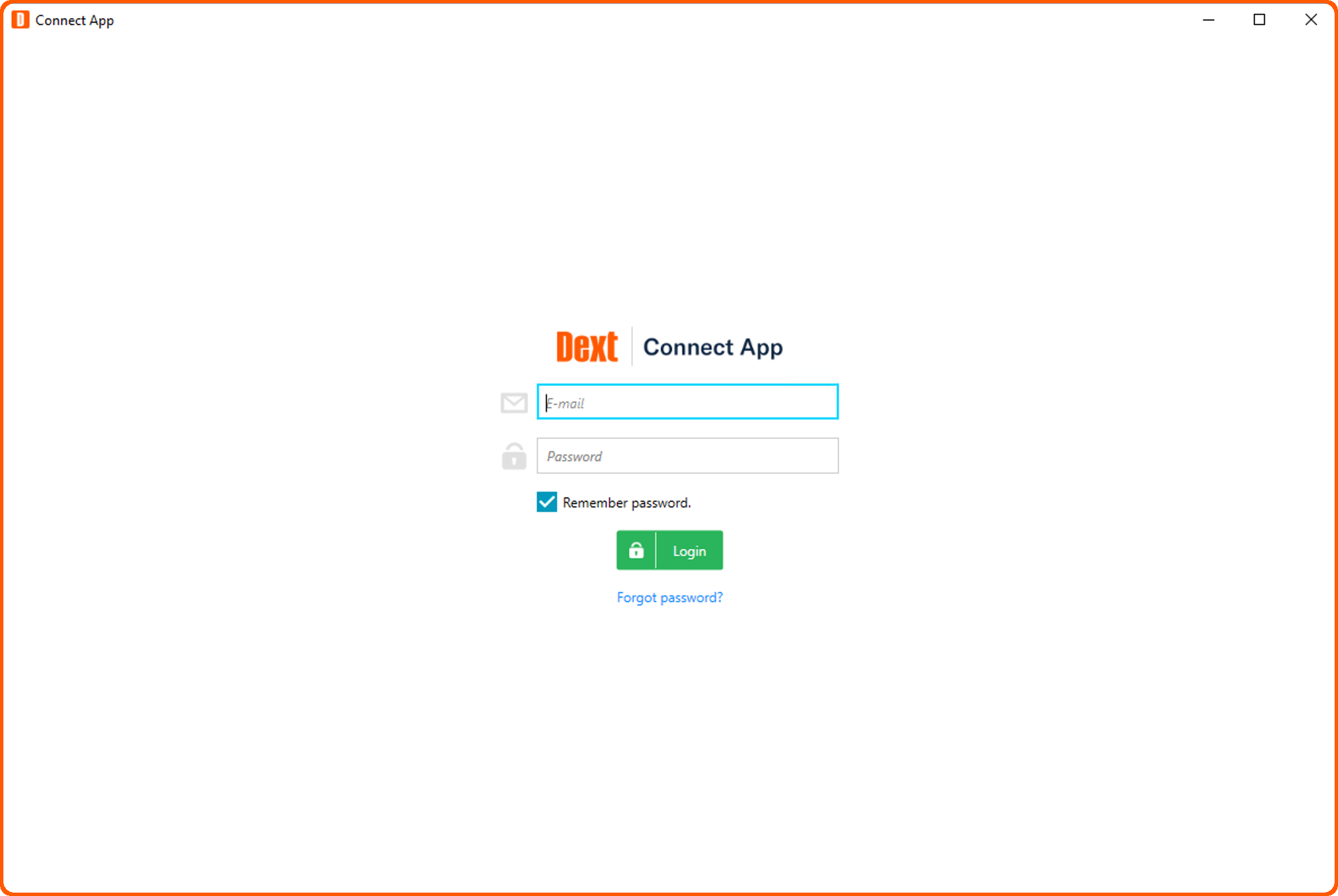 ---
Create a new user in Sage 50 Canada
Before you can integrate Sage 50 with Dext Connect a new user must be created in Sage 50 to allow Dext Connect to access the company file without being disrupted by other users.
Important: Each client file you integrate with must have its own dedicated user for Dext Connect.
To create a new user, log on to Sage 50 and into the company account that you would like to integrate with; create a new user by going to 'Setup' and then 'Set Up Users…'.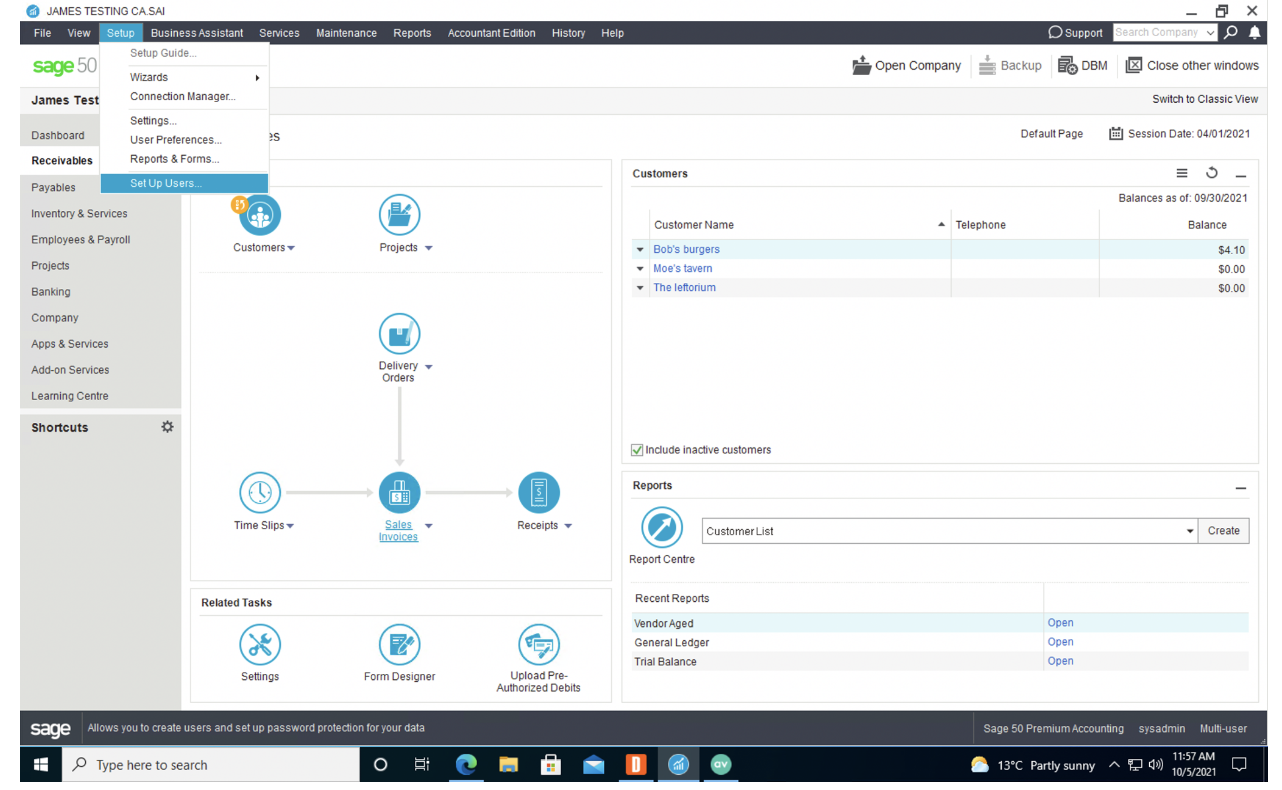 Click 'Add User' and enter a memorable username and password, it helps to use the same details for every Dext user you create when integrating with company files, take a note of these details. Make sure the user type is 'Accounting User', that the user as 'Read/Write Access' and 'Full accounting rights' as per the screenshot.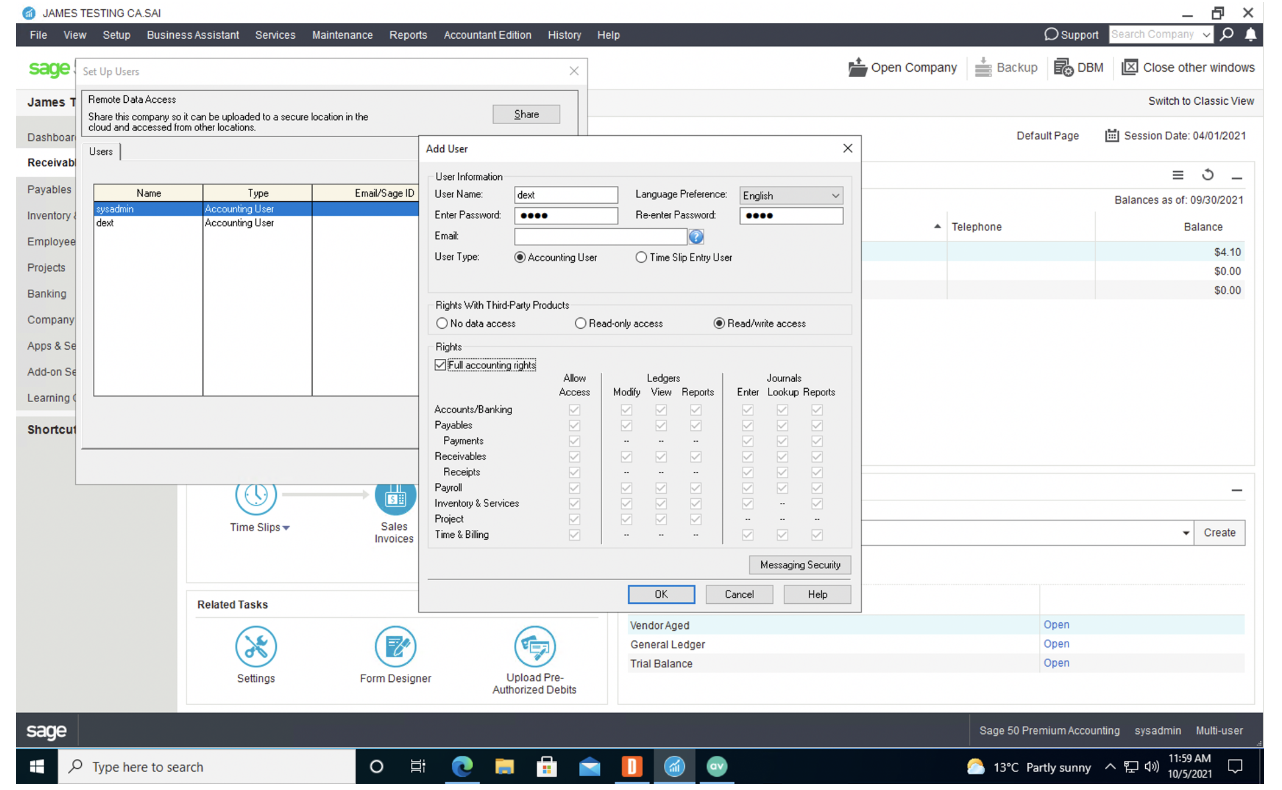 Whilst you're in the company file that you would like to integrate with; copy the path to the company file, this can be found under the Properties tab.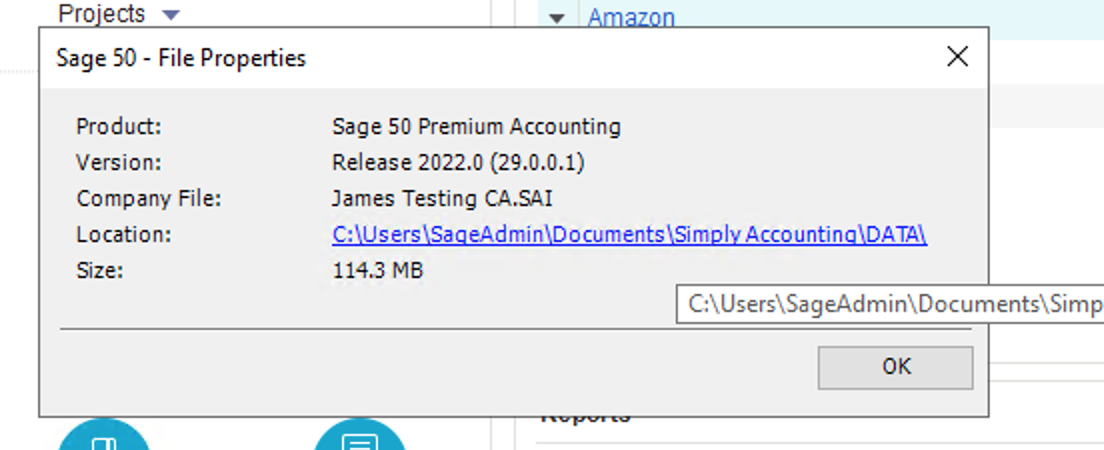 If you are in single user mode, close Sage 50. (If your version of Sage is single user mode it will always need to be closed in order for Dext Connect to synchronize data and publish items.) This makes it advantageous to leave it in Multi-User mode where possible.
---
Complete the integration  
Firstly, ensure you have created a client account for the company that you want to integrate with in the Dext web app.
Then, return to Dext Connect and follow these steps:
Select the account that you wish to connect and click on the green Integrate button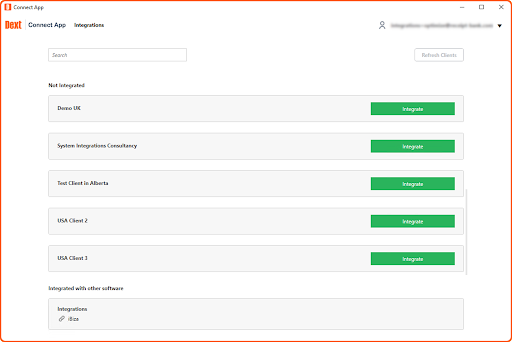 Select Sage 50 Canada from as the application you wish to integrate with if you are presented with multiple options. Press ok.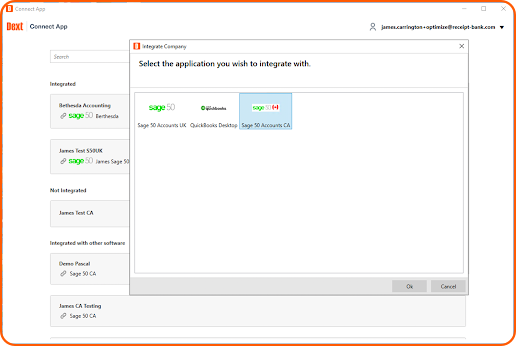 When asked for the location of the company file click 'browse' and paste the path to the correct company file that you copied earlier from Sage 50 into the address bar; then select the file for the company you are integrating with. Press next.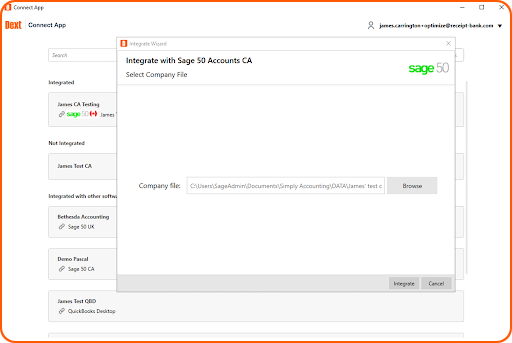 When prompted enter the username and password of the dedicated Dext user that you created earlier. Press integrate.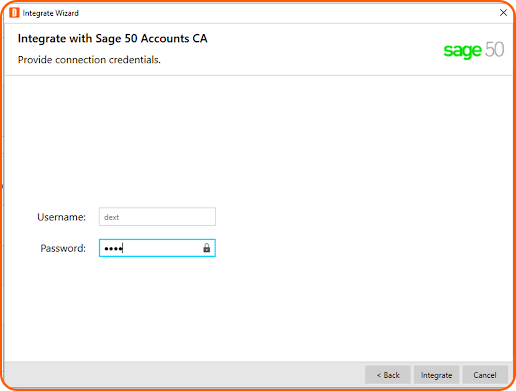 Complete the integration by choosing whether the company is tax registered or not and if so select their default tax codes.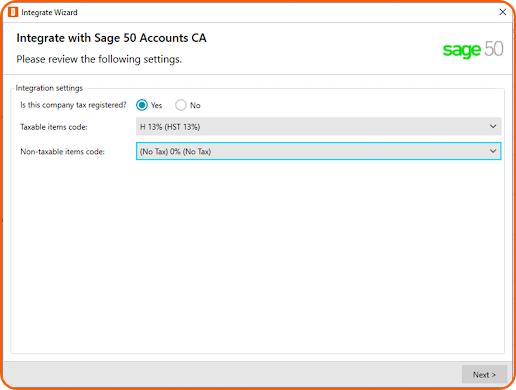 After the integration please allow a few minutes for all the categories and lists to synchronize.
---
How to review and publish documents to Sage 50
Once integrated, you will need to edit items in the web version of Dext in your browser as usual. The data will be synchronized from Sage 50 to populate your lists such as chart of accounts, suppliers and customers. These can then be selected when preparing items for publishing. You should prepare all of your items for publishing on the web app in your browser, then move to the Dext Connect App on your desktop when you're ready to publish.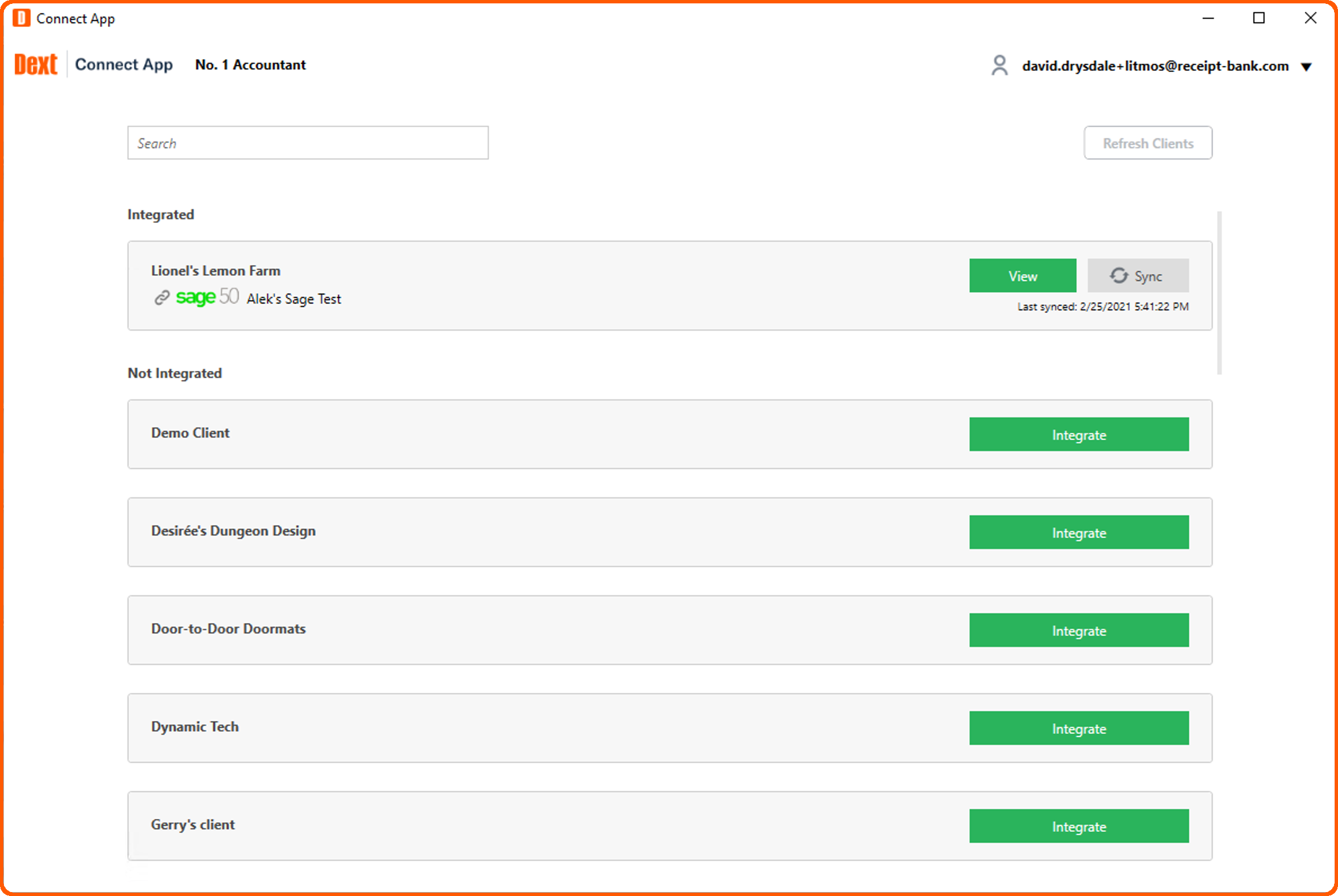 Items can be published to Sage 50 Canada via web publishing or the Dext Connect app. For more information on how to publish see this article.
---
Disabling the integration
If you need to disable the integration, perhaps to move it to another instance of Dext Connect on a different computer, just go to the Integration setting on the Dext Web App, click 'change' next to the current integration and then 'disable'.