The Account Settings are now found in the Left Navigation panel and can be found under the Manage menu. This is where you can make changes to your Connections, My Profile, My Team and My Clients. These settings are used to tailor the way your Dext Prepare account works, help you manage your team and your clients, create connections with other accounting software and data sources that feed directly into your workspaces. 
Note: The specific options contained within the menus are dependent on the account type and the integrated accounting platform

The Connections Menu is split into multiple sub-sections. This is where you can integrate your Cloud Accounting software and create connections that feed into your Costs and Bank workspaces.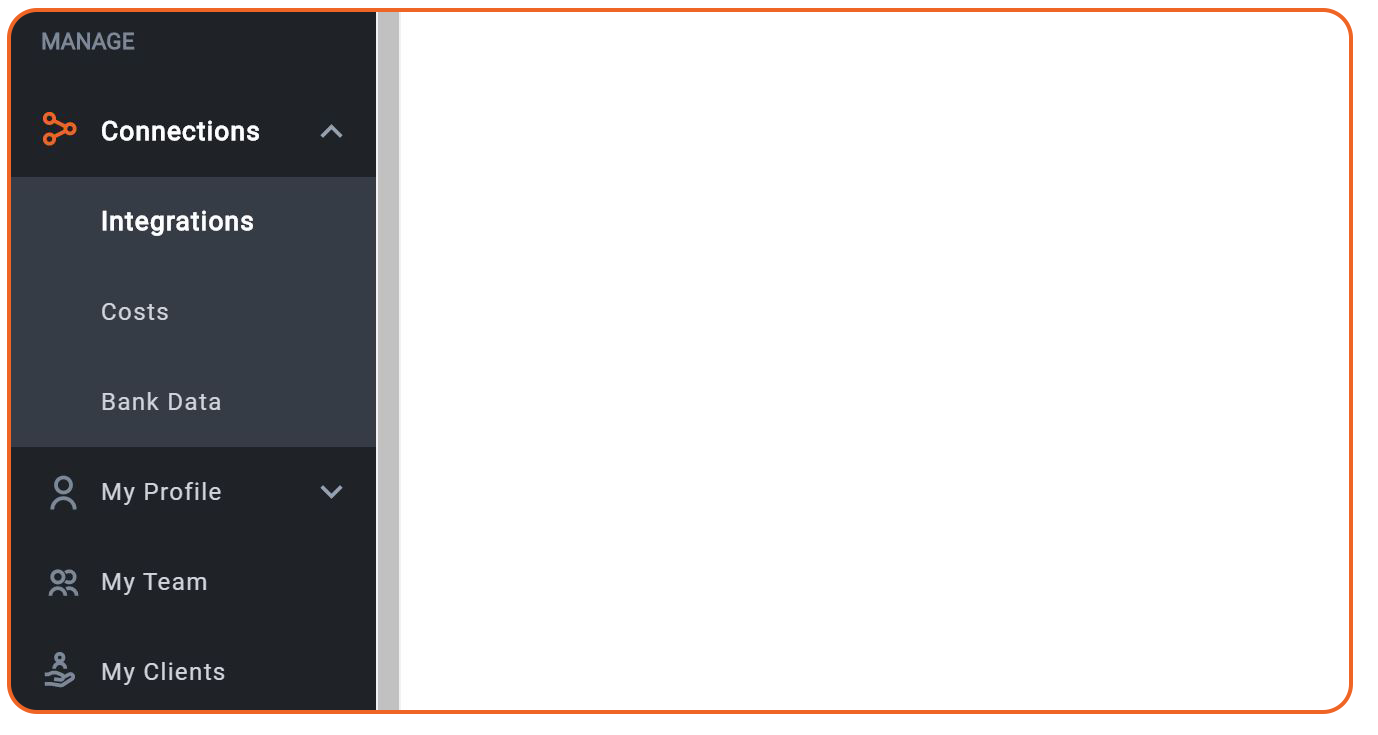 Integration
Link your Dext Prepare account to Cloud Accounting Software here. This also allows you to alter publishing location, tax settings and auto-publish.
Costs
Create and edit connections with Invoice Fetch, DropBox, Paypal, and Tripcatcher (UK Only).
Bank Data
Create and edit connections with Bank Fetch and Bank Feeds.
The My Profile menu is where you can change and view all the settings for your own account, including how the tool is set up, your account details, and your submission history.
System Settings
Set up how your documents are identified, add due dates for invoices, edit categories, and manage how your items are archived and downloaded.
My Details
Update your contact information, change your password or add two-factor authentication. Customise your unique email address, change your email notification settings, and enable practice view.
Account Details
Set your base currency, language, country, and select your Extract Tax setting. Also in this sub-section is where you can enable item messaging, image sharing, and add your own logo to display when your clients are using the mobile app.
Subscription
View and modify your current subscription plan, update your billing details, see your current payment status, payment history, usage of Bank Statement Extraction and accelerated extractions with Boost.
The My Team menu is where you can manage your colleagues using Dext Prepare. Add new colleagues, update current colleagues access to client accounts, and update their user details.

The My Clients menu is where you can manage your clients. Edit application settings and access for your clients, look at the submission history, and add or suspend clients.

Note: The specific options contained within the menus are dependent on the account type and the integrated accounting platform