The Bank Workspace allows you to manage all transactions imported into Dext from your various bank accounts.
Important: If you cannot see or access the bank workspace, you do not have the appropriate level of user privilege access and should reach out to your account administrator, accountant or bookkeeper to be given access.
---
The Four Areas in the Bank Workspace
1. The Bank Overview Page
This page gives you an overview of all your bank accounts in Dext, whether added manually, through a bank feed, or through an integration with an accounting software. On this page, Dext will highlight the bank accounts that need your attention.
This following information is displayed by default:
The name of the Bank Account,
Name of the Bank or Integration
Account Number (last 4 digits)
Currency
Last Closing Date
Last Closing Balance
The Source of the account.

You can modify the display of the columns at any time, by clicking on the Settings icon in the top right of your page and deselect/select columns.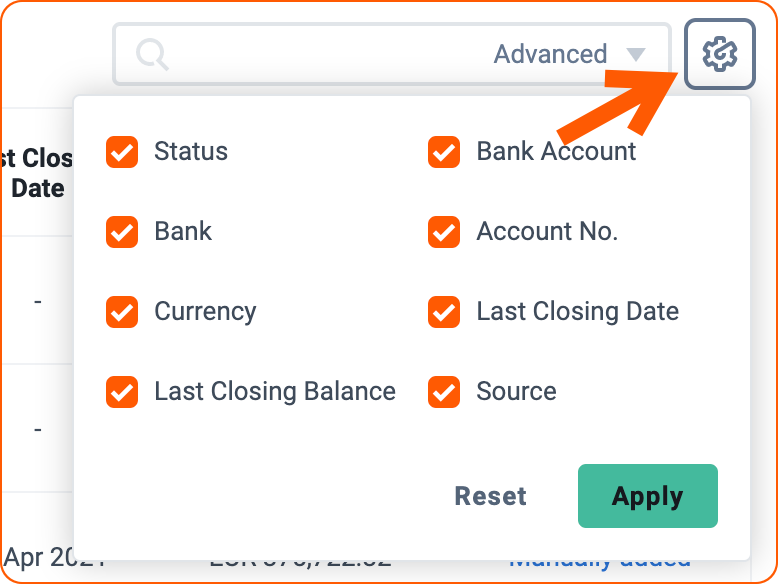 2. Collected Statements
Here you will find transactions being extracted, as well as those that were rejected and the reason for the rejection.
Note: You will not be charged for rejected statements.

3. Processed Statements
Here you will find bank statements that have been successfully extracted. These statements can be downloaded  as a CSV if needed.

4. Transactions
This Page includes all the transactions extracted from your bank statements. Here you will be able to assign your accounts to transactions, see which transactions have been reconciled with an extracted costs or sales document or not, and send a paperwork request.

---
How to Add a Bank Account
There are two ways to add a bank account: Manually or by Bank Feed.
Manually Added Accounts
Manually add your bank account by searching for your bank and adding your bank account details.
Follow this guide to add a bank account manually.
Bank Feed
Adding a Bank Feed will automatically bring your bank account information into your Dext Prepare Account.
Follow this guide to set up a Bank Feed.
---
How to Add Bank Statements  
You can add your bank statements by upload or by Bank Feed.
Follow this guide to upload a bank Statement.
See this guide for more information on Bank Feeds.