Elevate your visibility across your entire client base by uploading those without Quickbooks Online or Xero accounting ledger integration into Precision. Adding unintegrated clients into Precision enables you to establish uniform workflows across all clients, effectively managing your team's workload while considering all clients in the process.
---
---
What you need to know:
You can now add all your clients, no matter what accounting software you use, into Precision to manage tasks for client jobs
Because these clients are unintegrated Precision won't have access to their bookkeeping data so any intelligent data functionality won't be available
Precision Health Scores will not be available for Unintegrated Clients.
Unintegrated clients will not contribute to bundle/licence subscriptions so you are free to add as many as you want.
If you transfer an unintegrated client to Xero or QBO you can easily convert them into an integrated client to access our data driven features.
---
When uploading your unintegrated clients, you can enter the client's financial year-end month & date. If the client is UK based, you can enter Company Reg number and VAT reg number. This will give you access to additional functionality in Precision, such as Deadlines Dashboard where we can gather Companies House and HMRC Information.
Step 1: Click on Add Client at the top right of the Client List Page.

Step 2: Click on 'Add an integrated client'.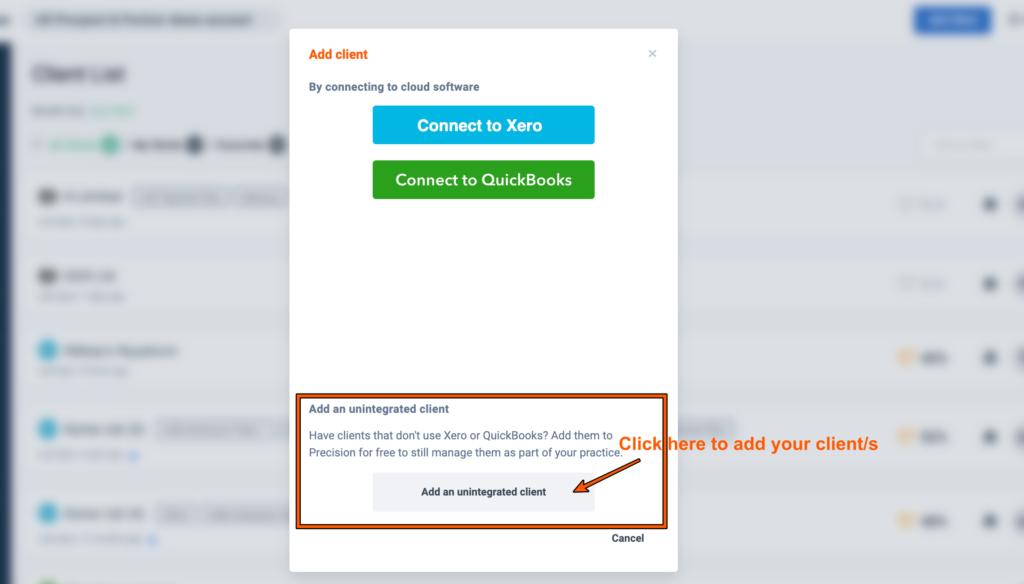 Step 3 – Option 1: Here you will have 2 options for uploading clients. First one is downloading our excel template and follow instructions on the page to populate the sheet with one or more clients and then save, select and upload the excel sheet.
What fields are required?
Only Name and either Year End or Companies House number must be populated
The rest of the fields are optional
More information results in a better experience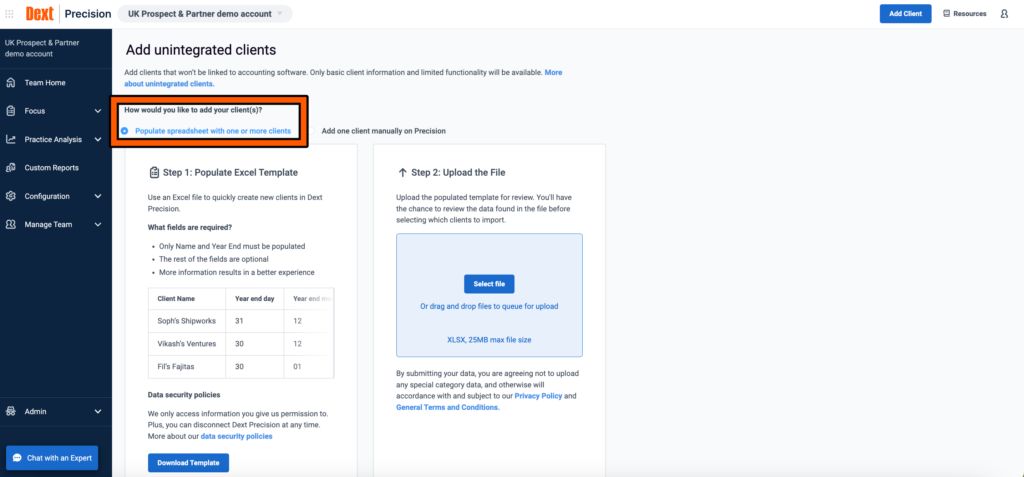 Step 3 – Option 2: Choose 'Add one client at a time'. Fill in the details of the client on the form then click Create Client. (As per above provide Name and either Year End or Companies House Number)

Once the clients have been added they will be identified in the client list. If you upload them with No VAT Number or Company Number they will show a different icon to the client's with that information as shown in the screenshot below.

Step 4: Click on your client to be taken to their Overview dashboard. This will look different to your integrated clients overview as there are no data driven quality checks or Health Score. However you will be able to add Notes and manage your workflows from this screen for those clients.

Once your client is added it will enter into the Client List & Practice Dashboard alongside your integrated clients (Xero & QBO clients). It will also be available to use in Flows with 'unintelligent' checks and appear on Focus Dashboard for workflow reporting.
Note: For UK Only, clients will also be available in Deadlines Dashboard and HMRC Dashboard.
---
Flows for unintegrated clients will have task list functionality. These checks are not data driven as we are unable to pull data from the G/L. However, there are many benefits to adding your unintegrated clients to Precision's Flows, such as:
Setting up consistent workflows for all clients – this will allow for a standardised process across all of your firm's clients, all in one place.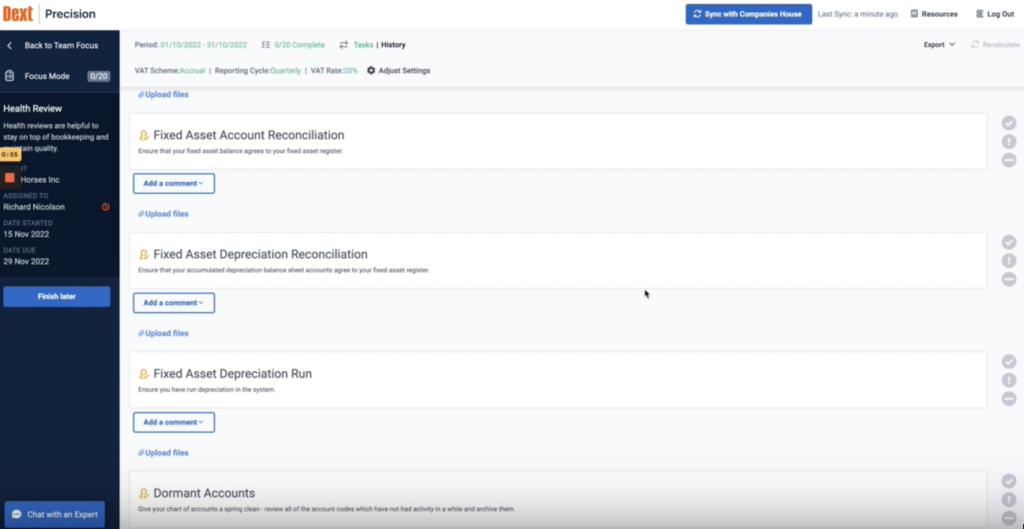 Managing workload – team managers can view all of their flows across clients. They can use this to prioritise workload.
For example:

They can group the Focus Dashboard by Account Manager to see who has too many clients/needs more work, helping them to distribute clients evenly.
They can group the Focus Dashboard by Flow Name to see all of their clients that require the same task to be done, which is helpful for managing monthly bookkeeping.
---
Unintegrated clients are also available in our reporting dashboards which can be added to custom reports that you create to manage your practice clients.
Deadlines Dashboard (UK Only)
The Deadlines Dashboard can now be the one source used to view & manage all of your client deadlines.

Practice Dashboard
Unintegrated clients will be shown on the Practice Dashboard. You will be able to identify them by the Primary Integration column.

---
Connect Accounting Software
You have the choice to transform your client into an integrated client if you opt to migrate them to Xero or QBO at a later time. Simply click on 'connect accounting software' to initiate this process. This conversion will transition them into an integrated client status, necessitating a subscription fee for their continued usage.