A one-off Flow runs only once and involves assigning any Flow Template to one or more Clients, assigning a team member to the Client, and selecting a reporting period and a due date for when the Flow needs to be completed.
---
What you need to know:
You can select a pre-existing Flow Template, or build your own as you go.
It only runs once so there is no option to set up a repeating schedule as you can with our Repeating Flows.
---
To create a One-Off Flow to to Team Home – Focus – Flow Creator
Step 1: Click on Create a One-Off Flow

Step 2: Set Checks
Name your flow – Choose a name for your Flow if you leave this blank Precision will use the template name you choose.
Select a Template – Select a Flow Template you have created already or build you own from this screen
Click Next to move onto Set Cadence section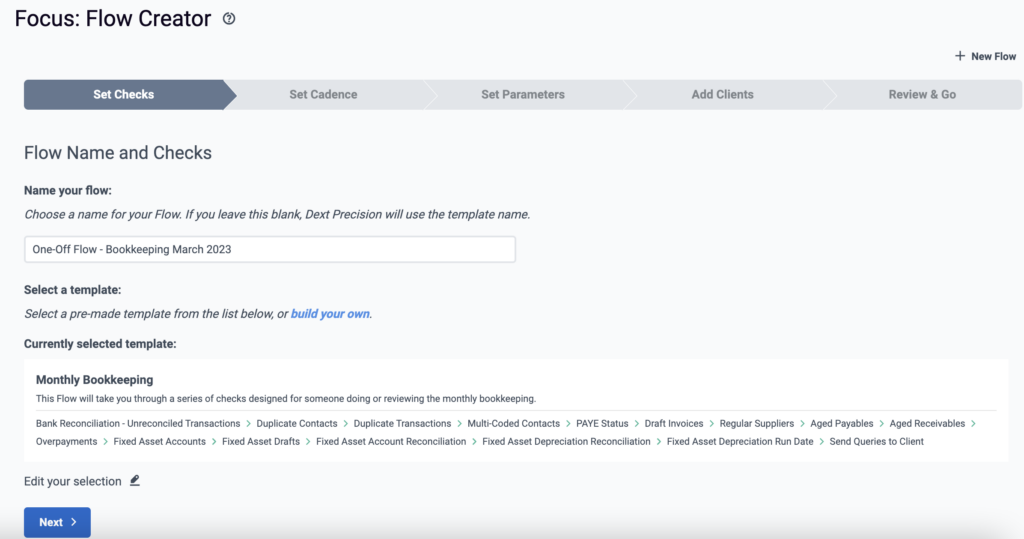 Step 3: Set Cadence
Set Dates – Select the Reporting Period
Set Due Date for the flow to be completed
Click Next to Set Parameters

Step 4: Set Parameters
This section allows you to set parameters for the data quality checks. Where possible, defaults have been set based on your selected reporting period so in most cases these parameters should be fine. The 2 that you may want to customise yourself will be how far back you want us to pull the data for Aged Payables/Receivables.
Click Next to add clients.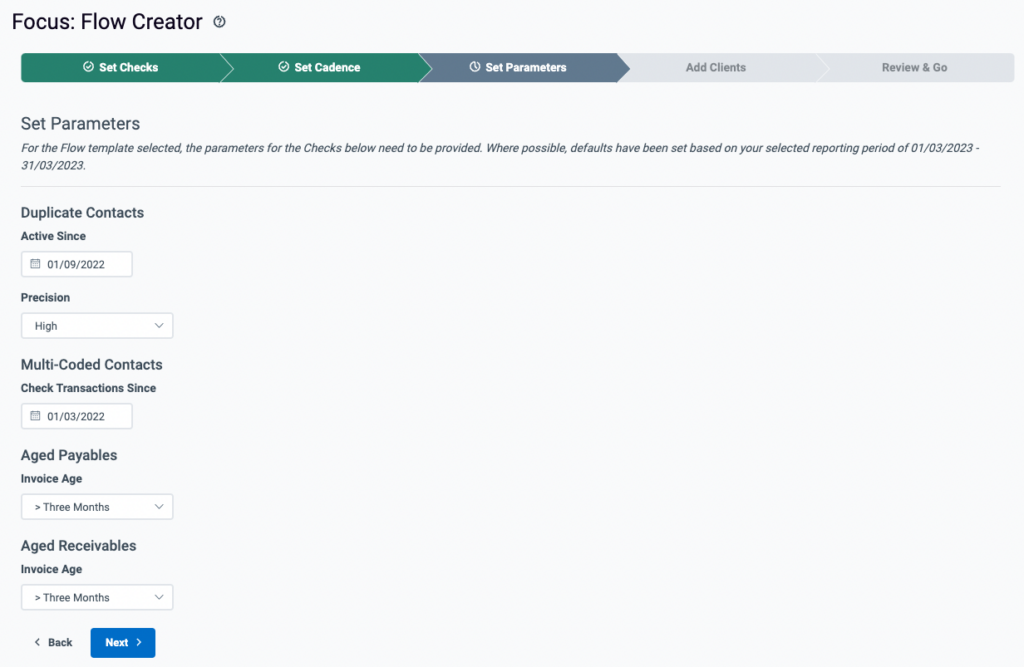 Step 5: Add Clients
You can add multiple clients to a Flow by selecting By Tag or one client at a time By Client. (If you add by tag you need to ensure that all the clients are assigned Client Tags first.)
Select the account manager and reviewer you would like to use for this group and edit or delete assignees as necessary.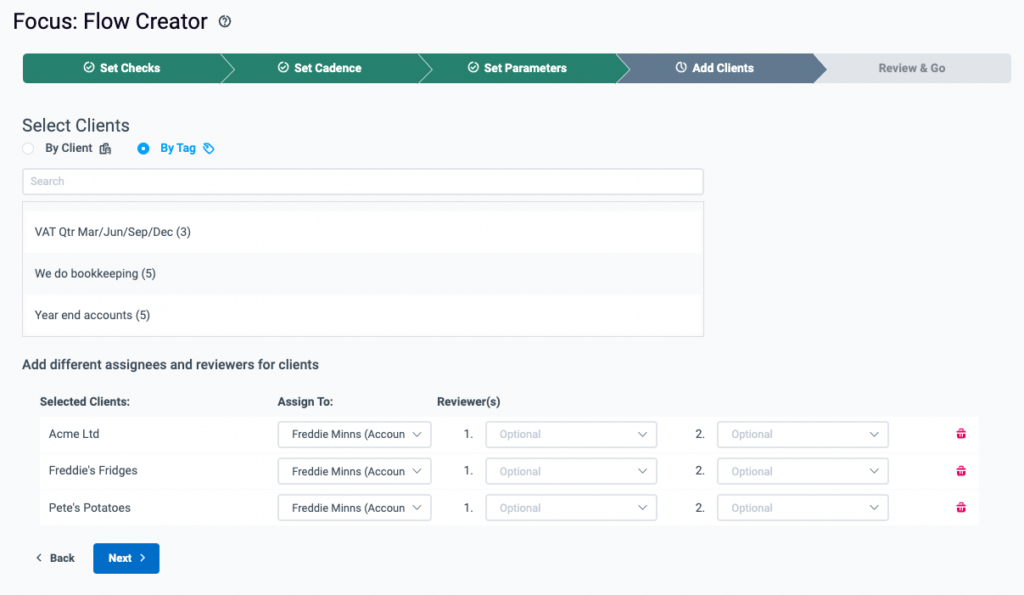 TIP: If you add multiple clients when building a Flow, a Flow will be created for each client.
Step 6: Review & Go
Review the parameters set for the One-Off Flow and if all is correct click Create.
If you are creating the Flow for just one Client there will also be the option to 'Save & Start'. This provides a shortcut where the Flow will be both created and started in one go, and you will be taken directly into Flow Mode.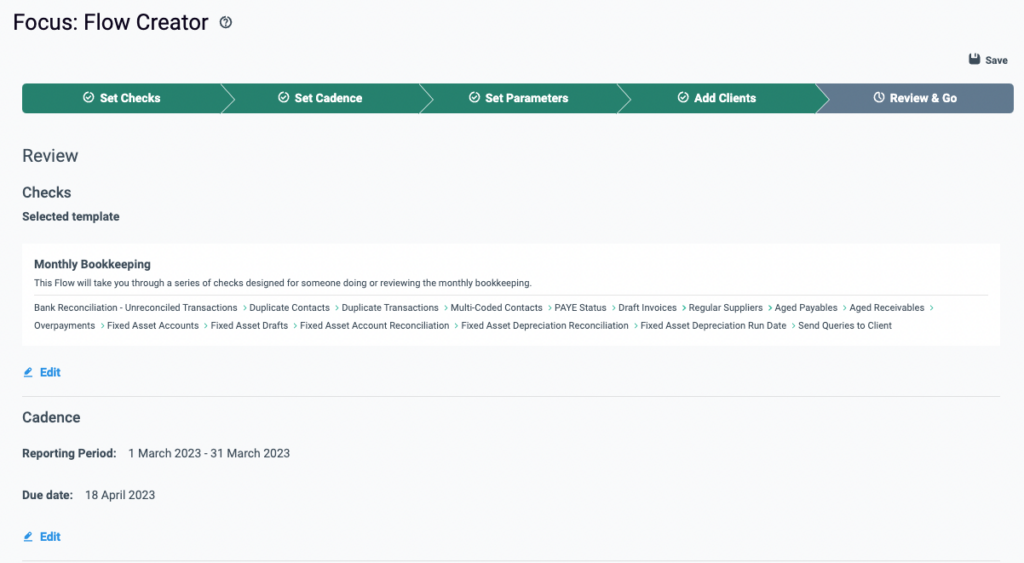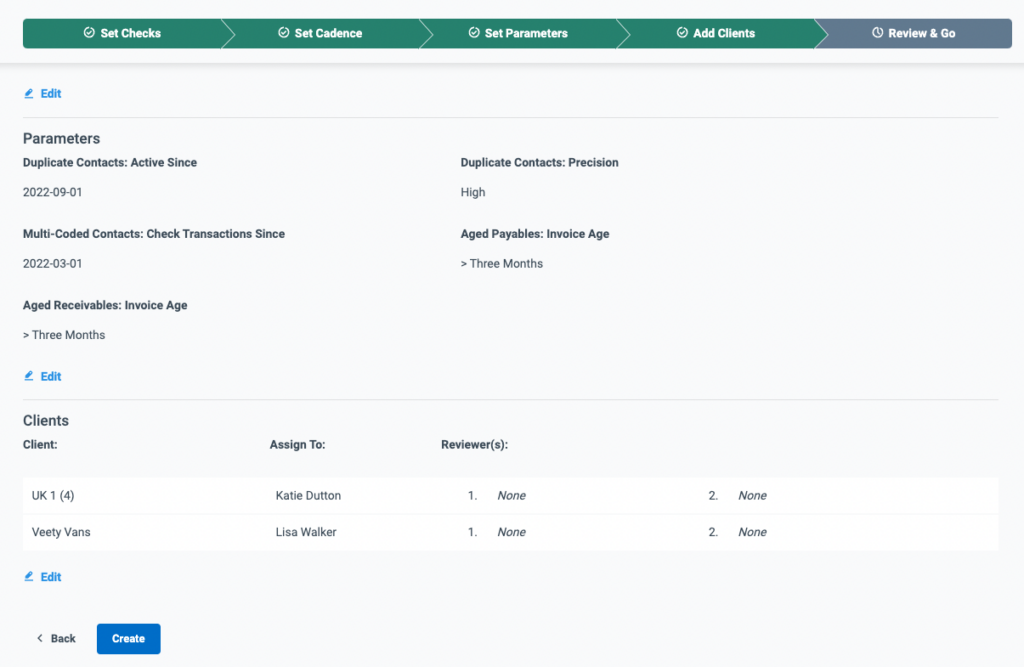 ---
You could use One-Off Flows for onboarding new clients. Usually onboarding checks are done once.
Use One-Off Flows in situations where you have a Repeating Flow that has started but you have a client that was not included in that period for the Repeating Flow and as that flow has started you can't add new clients to a flow already in progress. You could set up a One-Off Flow instead for that period only for that client/s but add that client/s to the repeating flow template client list so it will be included in future periods.
Perhaps you have a special assignment for a client that falls outside the work you normally do for them. You can use One-Off Flows to complete the tasks related to this special assignment.
---
Next Steps:
You team members will be notified via our Focus Daily Digest emails updating them on status of their flows assigned to them. Click the link to see the notifications they will receive.
If you have any further questions on how to use repeating flows please contact your Account Manager or reach out to your Partner Success Consultant.