Use Precision's Deadlines Dashboard to stay in control of HMRC & Companies House submission deadlines across all your team and their clients. With a traffic light warning system, see deadlines that are due soon or overdue at a glance, so your firm can proactively manage all deadlines and avoid penalties.
---
What you need to know
To get the most out of this dashboard you must:
Ensure you have client's registration numbers entered in your accounting system as they won't appear in the dashboard otherwise.
Enable Precision's HMRC integration via your Agent Services account, and ensure client VAT are set in the accounting system.
The more clients you add to Precision the more value you will get out of using this dashboard
---
This dashboard has the same grid-like functionality as Practice Dashboard, including the ability to save as custom reports. There's some additional columns with overdue/due status and a traffic light colouring system to allow users to filter to see deadlines that are due soon.
Benefits for your Practice:
Have visibility over your client's deadlines in one screen. Avoid those sleepless nights worrying that you have missed a VAT return or facing a late filing which result in penalties.
Create different custom reports for each type of deadline ie a Companies House Report.
Teams will be more productive when they have visibility over deadlines. They can plan client workloads and they too will be less stressed about missing deadlines for their clients.
To access the Deadlines Dashboard go to Team Home – Practice Analysis – Deadlines Dashboard.
---
The Deadlines Dashboard has spreadsheet-like functionality. You can choose the columns you want to see and filter the information specific to the purpose of the report, such as a Due Dates for Accounts Filing. For example you can create a report that shows when Accounts are due in for Less than 180 Days.

To build this report I selected the following:
Under Columns
Client Name – (which I pinned to the left so so I could scroll the report to see all other columns. To pin a column select the 3 lines at the top of the column and choose Pin Column – Pin Left)
Last Sync – important to know when the last time the clients file was synced with Xero/QBO
Year End – this will help priortise client work if preparing a bookkeeping for a year end
Account Manager 1 – informs you who is responsible for this client for any queries you may have
Accounting Link – link to the client's Xero/QBO account
Accounts Filing – shows Next Accounts Due Date and the status of of when the Accounts Due In (which is how we will filter this report)
Companies House Details – shows the client's Registration Number, Company Name (Registered Name in case that is different to what you have in Xero/QBO), link to Companies House
Health Score – helps to get an understanding of how healthy the client is and what support may be needed to prepare them for the year end work.
Under Filters
Using the Filters you can choose to look at the data in the report in a specific way. So Columns is what you want to see and Filters is how you want to see it. For example, to view the report by clients showing which accounts are due in less than 180 days.
Go to the Filters section to right of the report, click on Accounts Due in then tick the box for Less than 180 Days.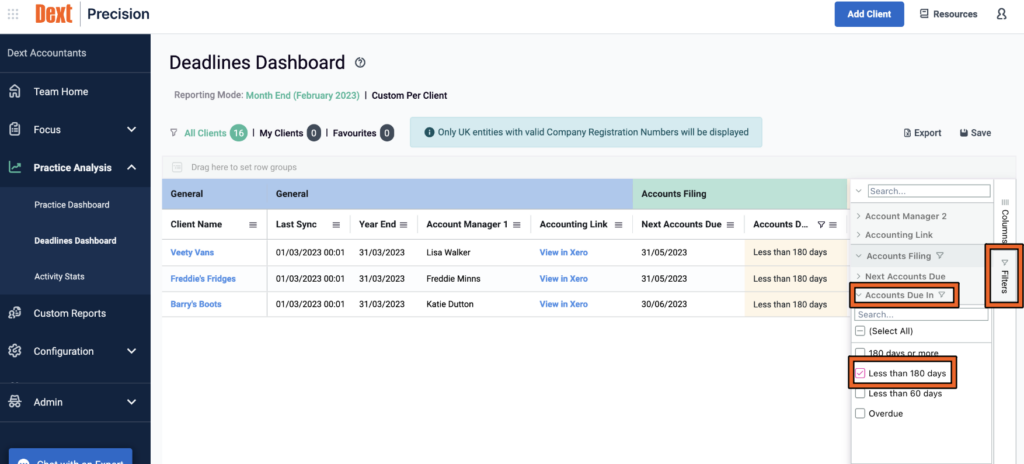 There are other reports you may want to create such as:
Report showing all HMRC VAT deadlines
You could filter (or Group) the report by Account Manager 1 and view all deadlines for each Account Manager. To using the Grouping feature drag the column for Account Manager 1 into the grouping area above the columns. Shown in screenshot below.

---
You can save or export your configurations to Excel, using the buttons in the secondary navigation at the top right.
You can save these configurations in your Deadlines Dashboard by selecting save. You'll need to give your dashboard a name, then decide whether to keep this report configuration private, or share it with the rest of your team. Saved dashboards can be accessed by selecting Custom Dashboards in the sidebar. Just like custom reports, they can then be edited, favourited, or deleted from this view.

---
Watch our Video (27 seconds) on benefits using Deadlines Dashboard
---
Next Steps:
Take a look at our Activity Stats Dashboard which is a data set for Precision's performance metrics from the Activity Stats Insight, month-by-month for the last year. This includes MoM and YoY changes, so you can check which of your clients are under – or over – performing. Great to use for Pricing Reviews.