An item may be published to your accounting software incorrectly. In order to fix the item you will need to delete it from your accounting software and republish the item from Dext Prepare.
Important: To be able to publish an item to an accounting software you must have Administrator level User Privilege access, or be given user privilege access to publish to an accounting software by your administrator. To gain this access contact your account administrator.
To re-publish an item:
First go to your accounting software and delete the item.
Once this is done, return to Dext Prepare and go to the Archive page in the Costs, Sales or Expense Reports section of the sidebar.
Find the item that was submitted incorrectly in the archive.
Unarchive the item, or multiple items, by ticking the box next to the item and clicking Unarchive at the top of the page.

Tick the Clear publishing data box, then click Unarchive. This will ensure that any further errors do not occur when republishing the item.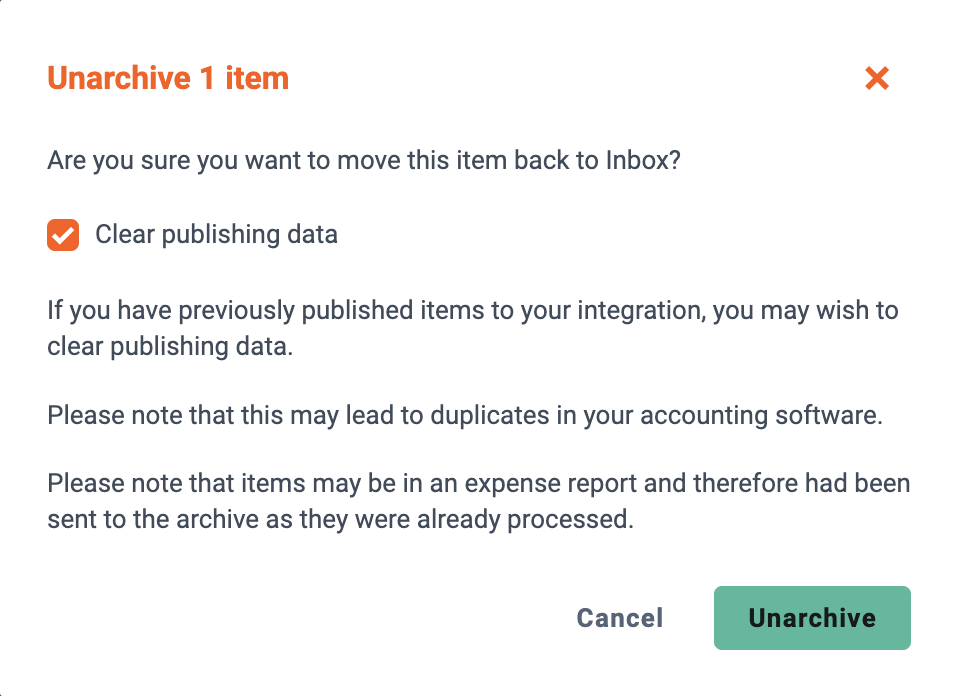 Note: if you skip this step you can clear the data later by going to the Inbox, ticking the box next to the item, going to Tools at the top of the page, then click Clear publishing data.
Once the item is unarchived, return to the relevant inbox to find the item and fix the item's error.
When fixed, publish the item to your accounting software.