Strong Customer Authentication (SCA) is a system used by banks to make your online payment more secure.
Using SCA means that you'll need to provide at least two pieces of information when you make some online payments. This could be using a password, an authenticator app, or your fingerprint or Face ID on your mobile phone.
As a result, you may be asked for some additional details when you first subscribe to Dext Prepare. These have been requested by your bank to confirm your identity.
In a small number of cases, we may receive the SCA request after you've finished signing up for Dext Prepare. This can happen at any time you're charged for your Dext Prepare subscription; even if you've been using Dext Prepare for months or years.
When we receive a SCA request, we'll send you this email to ask that you confirm your payment.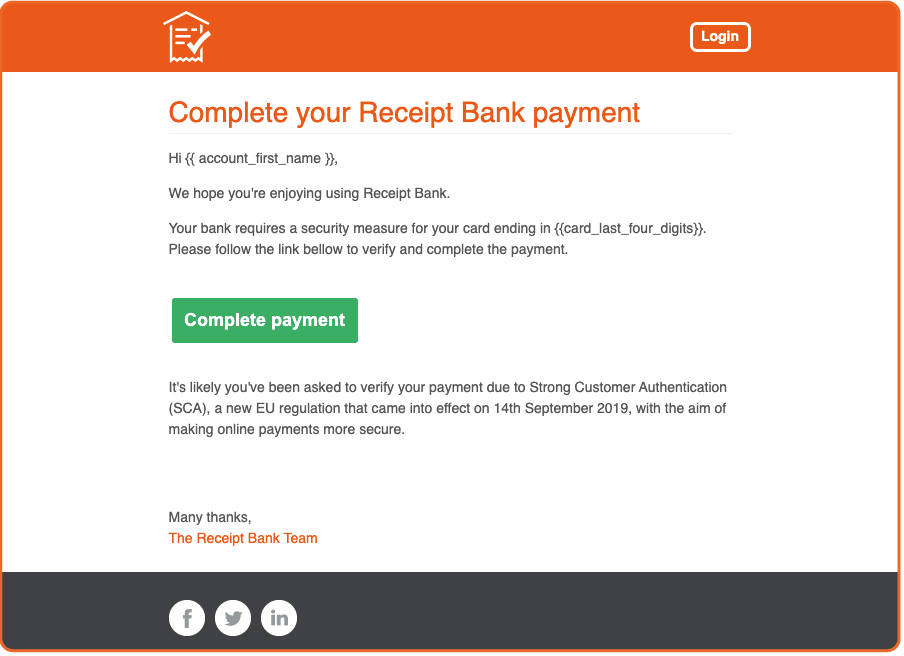 Click 'Complete Payment' and complete the required information. Completing and validating your details is hosted and authorised by your bank. You should contact your bank if you have any issues with completing your details.
Note: On 13 August 2019 the Financial Conduct Authority (FCA) confirmed that enforcement of SCA in the UK will include a phased 18-month implementation, starting on 14 September 2019 and ending March 2021.