The Sandbox is the area under your client accounts in Precision that holds all journals posted in their general ledgers. Unlike our selection of Practice Analysis dashboards where you can view all clients in one report, this is a single client report.
---
What you need to know
Each Client in Precision has a Sandbox view in the sidebar.
Any reports created and saved will be available in every client account under Reports area.
You only need to build the report once and it will be available across each client.
For clients with lots of journals/data we advise that you run this report with smaller date ranges. As larger data sets can create potentially create performance issues. We are working on a solution to improve this in future.
---
Client Sandbox is a core piece of Precision functionality since its launch, we start with Xero/QBO Journal Line Items as a base and supplement each record with additional data based on the type of journal it is – be it an Invoice, Bank Transaction, Credit Note or so on. We also bring in Contact and Account information so you've got all the key information you need in one place.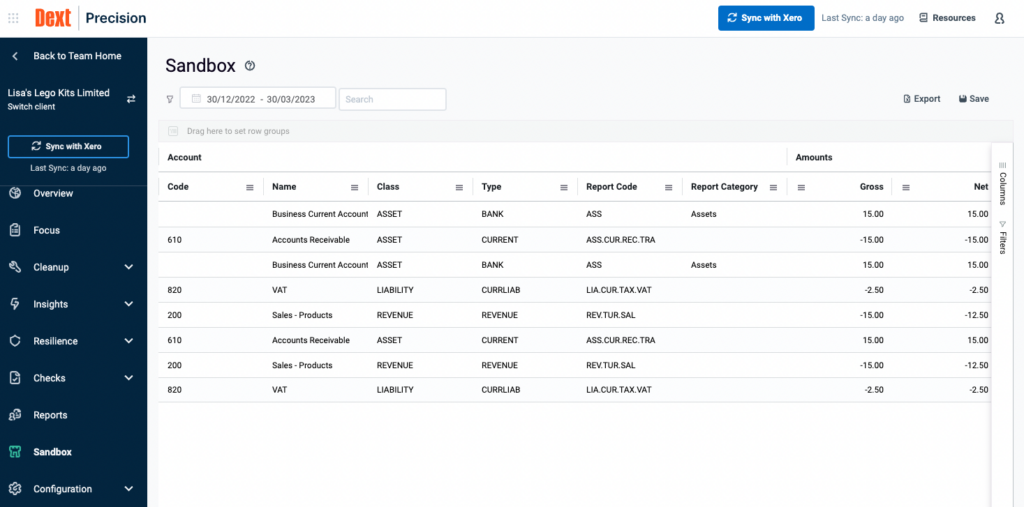 NOTE: Within the Practice Dashboard, any metrics not available for QuickBooks Online or Xero clients specifically will be displayed as blank in the relevant column. You can filter for clients from a specific accounting software using the 'Accounting Software' column.
---
This is quite important to explain because once you understand the structure of the sandbox you will better understand what types of reports you can build from the data set.
This type of table is found across most of our dashboards in Precision.
Account Types (1st section)
Every account code in Xero or QBO has a hierarchy, for example
Account class – Asset, Liability, Revenue, Expense, Equity
Account type – Bank, Current Asset & Liability
Account – Code, Account Name & Reporting Category
Dates – Date, Period, Week, Month, Qtr, Year, FY & Created on.
Source – Ref no, Category, Type, Status, Locked & Link to Xero transactions
Tracking – Regions
Contact & Description
Tax – tax type, codes and effective rates
All lines are journals, not just manual journals but transactions in the ledger.
Note: This is a Xero/QBO audit trail effectively. You can see reversals and repostings within the data so if changes are made to a transaction you can see that all tracked in the Sandbox.
Additional Information:
The currency is in source currency.  So if your base currency is GBP this is what is shown converted.  No FX in this information.
The # column is a journal number (by default this is the first column shown on the sandbox). This isn't shown in QBO/Xero; but can be used in the sandbox to see multiple sides of a transaction.
---
To get started, there are a few customisation options we recommend. Start with selecting the columns you want show in your report by clicking on the right hand side of the report is where you will find columns and filters. We will start with columns and the options you have in here.
Remove all the columns and start from a blank page by unticking all the checkboxes. To save time you can 'untick all' by unticking the checkbox next to the search box.

Then add columns you want to see by ticking the check boxes.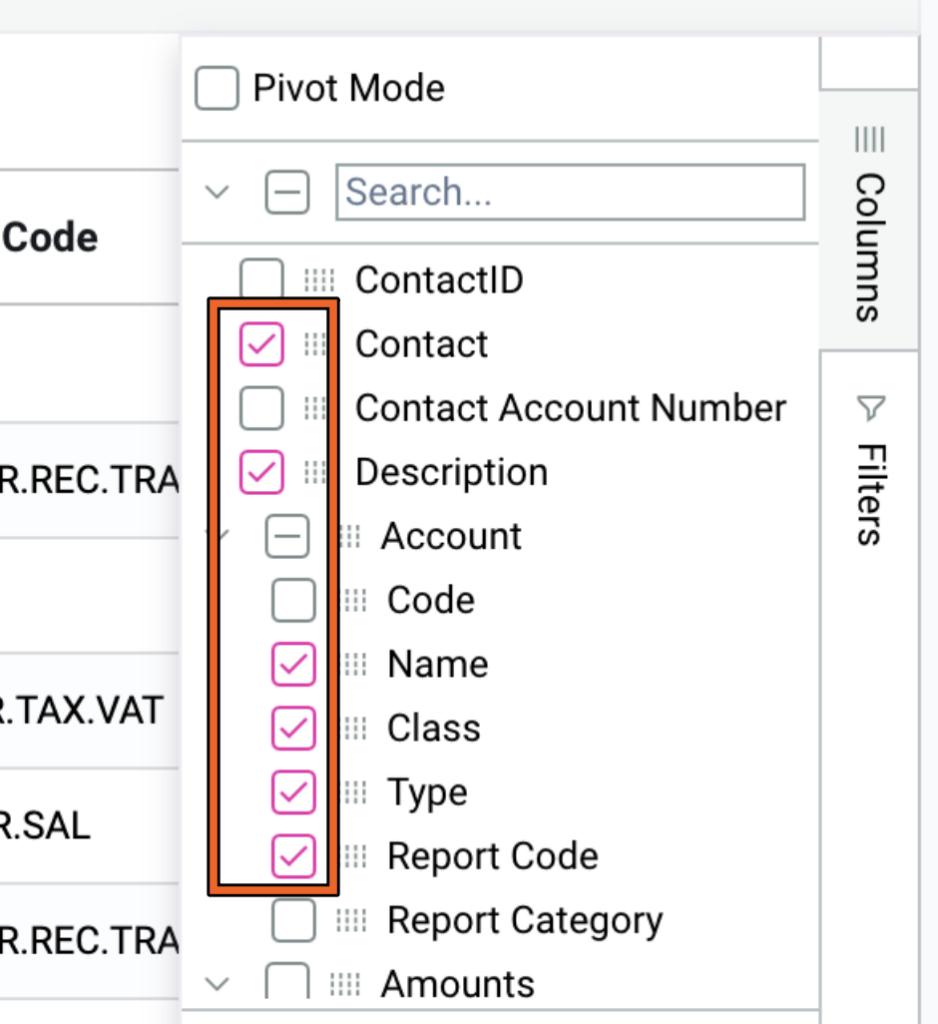 Group columns by dragging and dropping them up into the grouping section at the top of the report


Rearrange Columns by click, hold and drag a column into the position you prefer.

Pin columns click on the three lines at the top of the column (eg equivalent to 'Freezing' in excel)

You can create Pivot tables just like you can with excel. In our Columns area to the right of the report there is an option to select Pivot Mode by checking the checkbox. Once you select this option you can then drag a column section down to Column Labels. Common ways to pivot is to drag Period to Column Labels.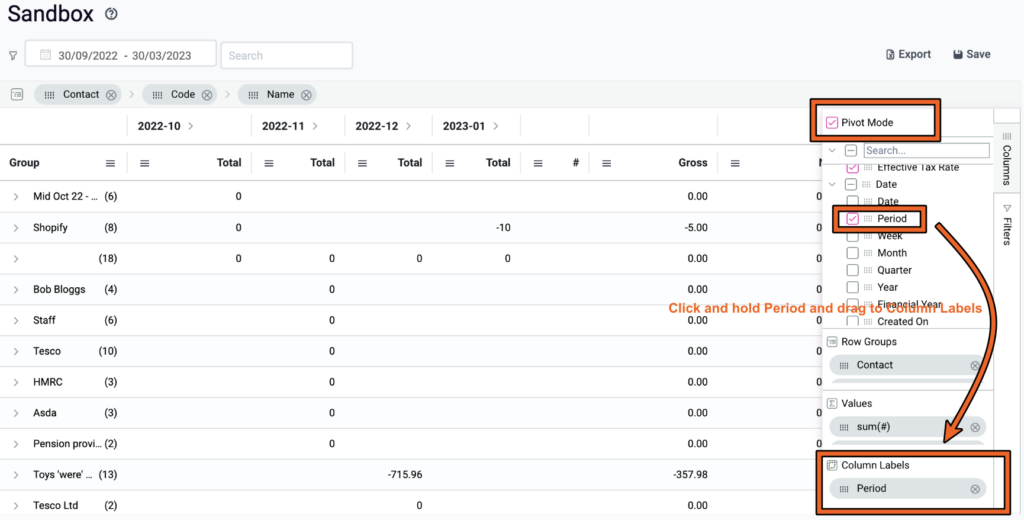 ---
When you have created the report you want you can click Save top right of the dashboard. Name the report and then choose to either keep the report visible to you only or tick the box to share with your team.
Or you can Export the report and make additional adjustments once exported to excel/csv.

Once you create a report and save it. This report will be saved under Reports in the navigation sidebar and will then be available in every client Report area.
Note: We have created 4 templated reports for you to use to get started.

Cost Review by Report Code
Cost Review by Supplier
Expenses by Month and Contact
Invoiced Totals by Contact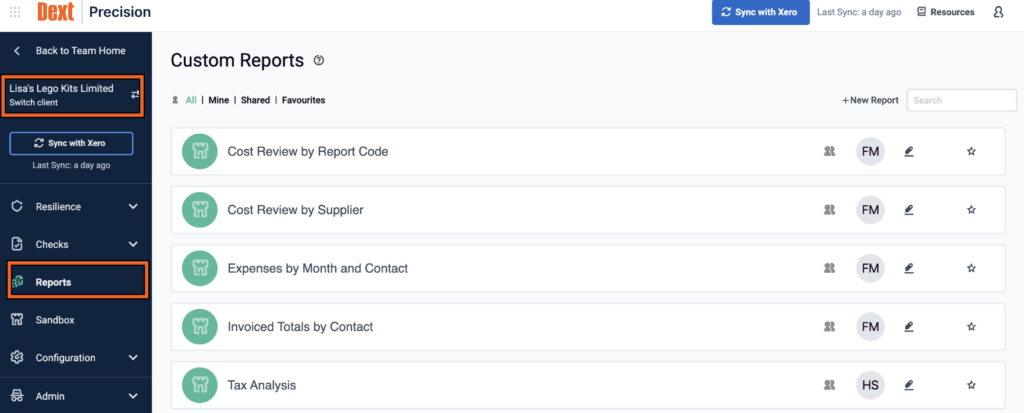 ---
The best way for us to show you how to use Sandbox and create custom reports is to take some time and watch our Sandbox Guide which is a 3 part series. Will take approx 45 mins to complete. It covers how to do all the steps shown above.
PART 1 – Introduction to Sandbox
PART 2 – Building reports using Client Sandbox
PART 3 – Reports you can create using Client Sandbox
---
Next Steps:
Take a look at our Custom Reports help article to show you how to create more reports learn more about our other data sets available in Precision.