Dext Precision calculates an overall score for a client to indicate the health of their books.
You'll find the Health Score displayed on each client in the Client List, and on each client's Overview page underneath their name. A lot of our cleanup tools and insights now have an individual Health Score, which the overall Health Score is derived from. You can now focus on improving the data quality of your clients and easily see that progress on a daily basis.
---
Client Health Score
The score is presented as a percentage, with a heart icon for traffic-light status. The health score is relative to the date selected, and proportional to the size of the client. The following Precision elements contribute to the health score currently:
Bank Reconciliation (Xero clients only)
Multi-Coded Contacts
Duplicate Contacts
Regular Supplier Anomalies
Lock Dates
Fixed Assets (Xero clients only)
Dormant Accounts
Contact Defaults (Xero clients only)
Aged Balances
PAYE (Xero clients only, if configured)
TIP:

The algorithm for the health score will evolve as we fine-tune the weighting of Precision's different cleanup and insight scores on the final health score, but keep aiming for that 100%.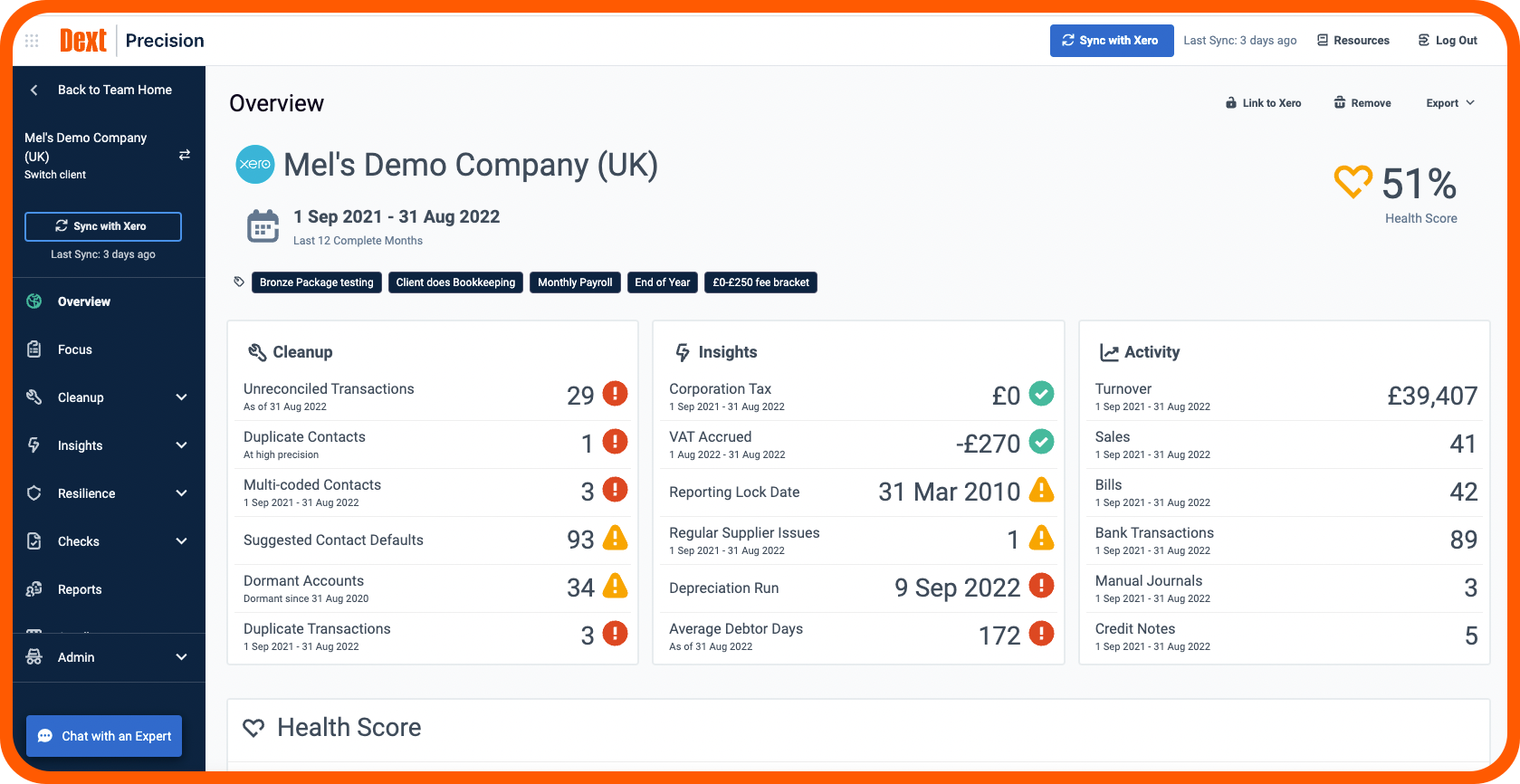 ---
Client Health Score Over Time
The health score over time feature tracks the changes to a client's health score and displays this as a graph on the client overview page. The data range and time resolution (i.e. view by month, week, or day) can be changed, and for accessibility, there is a table view.
This brand new chart on the Client Overview shows you historical health scores over the last days, weeks and months to see trends over time. Hovering your mouse over a point on the graph will show the health score at that time.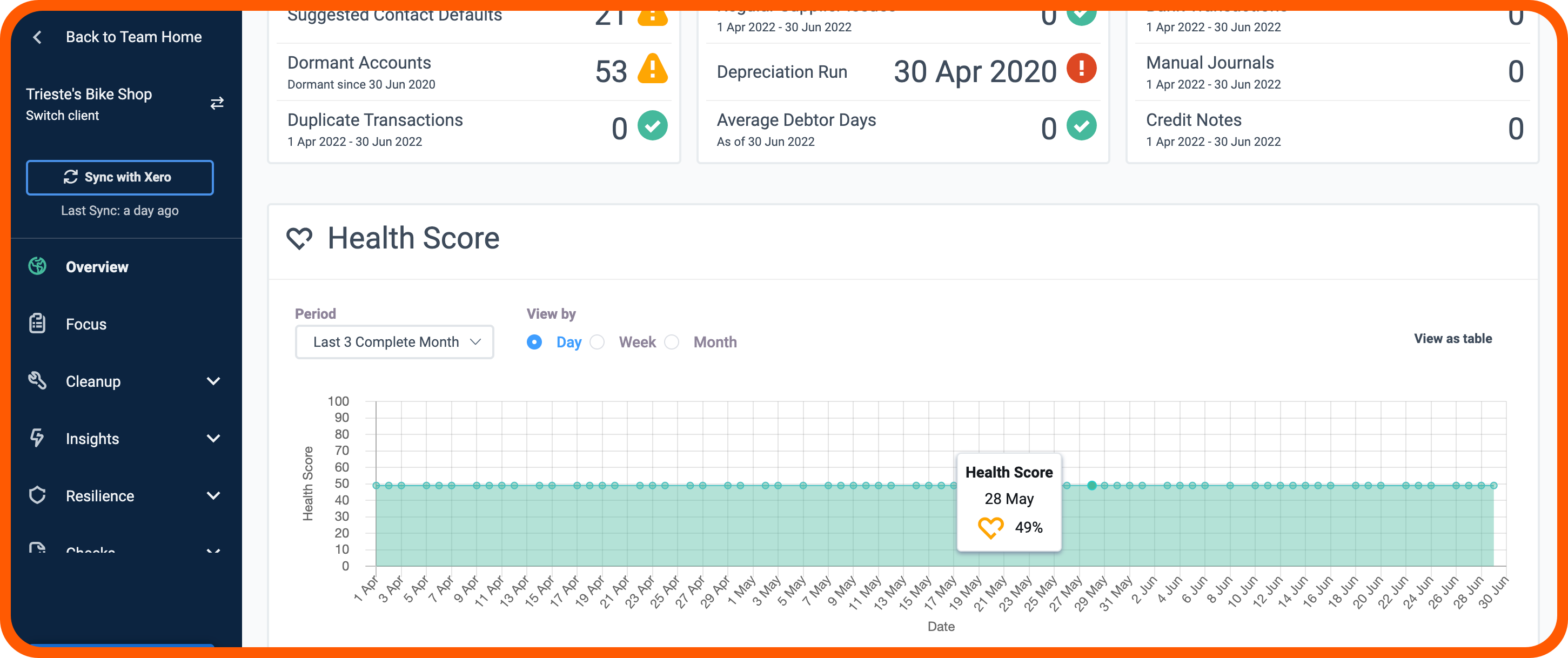 Use the table view to export the data, and share with your clients the impact of your team's hard work.
Clicking on Table View will replace the graph with a table of the data. In the table view, you can right-click to export to CSV format, compatible with Excel or Google Sheets. Clicking Graph View will return you to the graph view.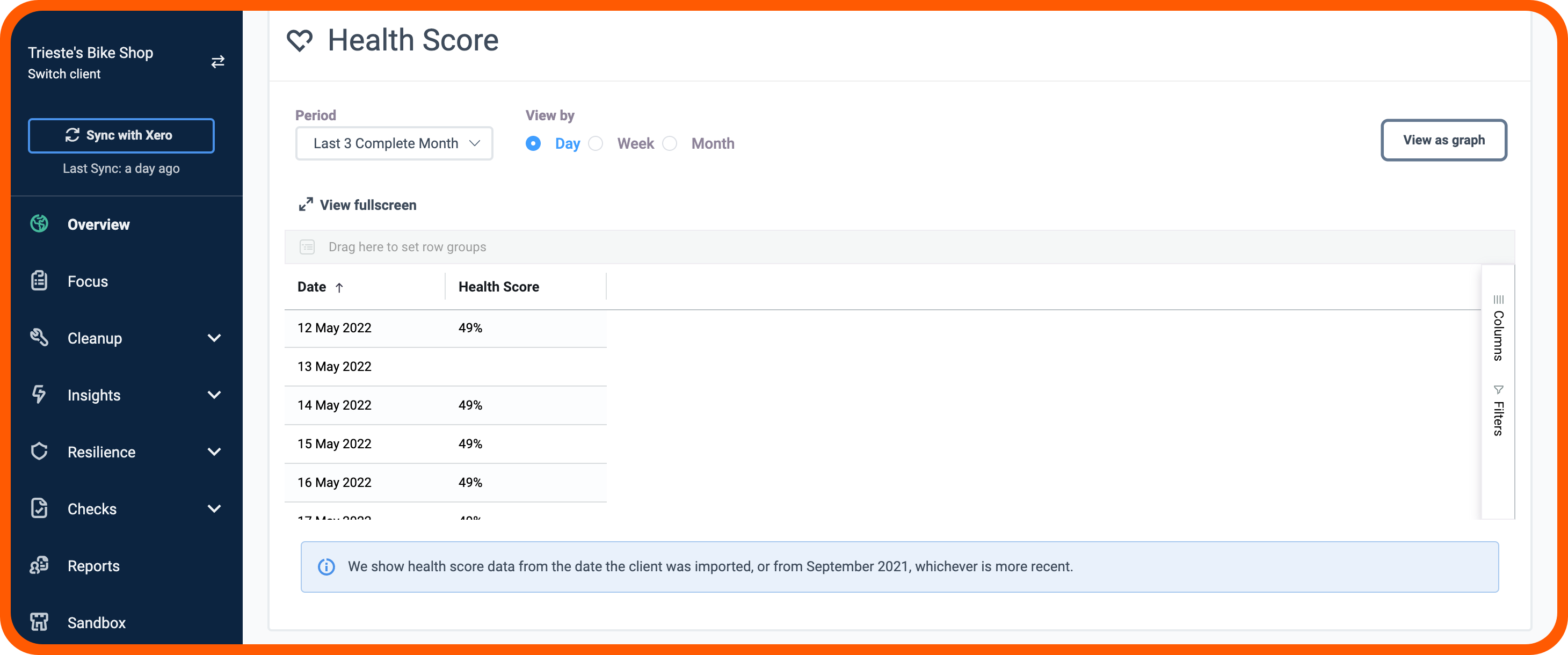 You can choose the date range by clicking on the drop-down menu and choosing a date range. By default, the date range shown is the one that corresponds to the period set for the Client Overview.