WARNING:

Contact Defaults is available for Xero clients only.
Contacts in Xero can be setup with "default" account codes and tax types for sales and purchases. If set, Xero will use these to pre-populate the account code or tax type fields during bank statement reconciliation.
For contacts that your client has a recurring relationship with (e.g. a supplier that bills monthly), setting these defaults in Xero can dramatically speed up the reconciliation process:

Figuring out which contacts are eligible for setting up these defaults can be time-consuming. This Dext Precision system analyses each contact's transaction history and searches for contacts where either sales or purchase invoices have been consistently assigned the same account code or tax type, and presents these up to you in a handy list: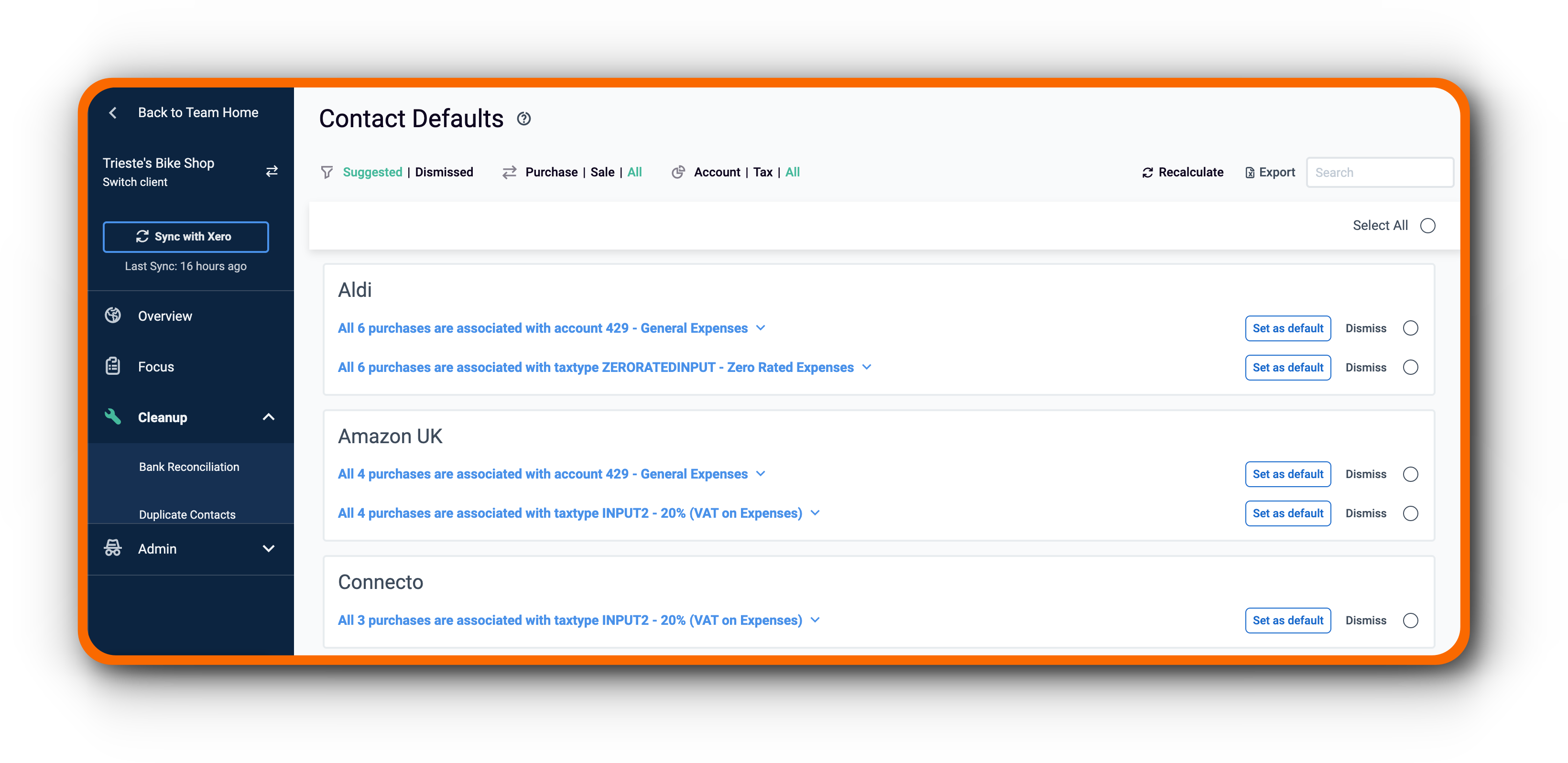 You can review the transaction history of these contacts and decide whether or not to apply Dext Precision's suggestion.

Clicking Set as default does what is says on the tin – Dext Precision will prompt you to confirm before setting the suggested code in Xero as the default for either Sales or Purchases:

Xero's support documentation on settings for Contacts is here.

Dismissals
If you think the suggested default is not suitable, you can dismiss it. Any dismissed suggestions can be viewed by selecting dismissed from the filter at the top of the screen, where you can then review and undo any accidental dismissals. Dismissed items do not contribute to the Health Score.
The dismissal covers the combination of contact name and the type of suggested account code; account code or tax type. If you dismiss a suggested account code default for a contact, for example, you will still be suggested potential default tax types if one becomes suitable.