Dext Precision looks across invoices and bank transactions and highlights records that it thinks could be unwanted duplicates.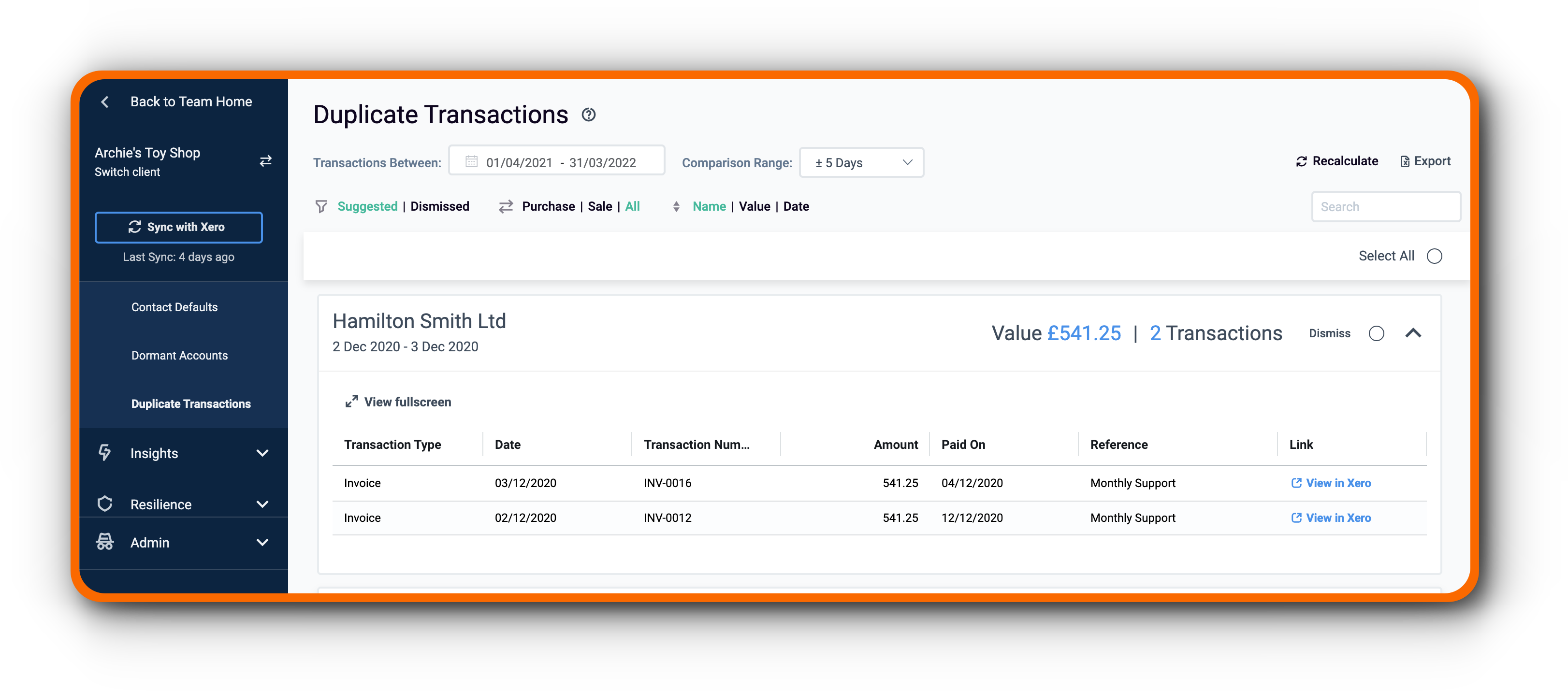 This view allows you and your clients avoid embarrassing situations where you might inadvertently pay a supplier twice, or charge a customer twice. You can filter the check between Purchase and Sales transactions, and sort by contact Name, transaction Value or Date.
Each detected duplicate is presented in a card for the combination of Contact and Value (in this case, it is good to ensure your Duplicate Contacts are all cleaned up). Clicking on this card to expand it will show the transactions in a grid format with further information on the type, source and description. For Xero clients, you can then click the links in this grid to see the transaction or invoice directly in Xero.
The Alert level on the Overview refers directly to the number of duplicate transactions relative to the total number of transactions in the reporting period.
Sales Transactions
Duplicate sales transactions result in overstated revenue and unnecessary chasing of customers that have already paid. This can happen due to human error accidentally raising invoices that have already been raised, or from integrations with another system that can sometimes incorrectly pull in duplicates.
Purchase Transactions
Duplicate purchase transactions can result in serious mistakes such as paying a supplier twice. Expenses might also be overstated for the period. Additionally, paid transactions sitting in Aged Payables are messy and can reflect badly on the standards of the accountant or bookkeeper. These can occur when there is a purchase invoice duplicate based on the same criteria as a sales invoice, or when the invoice is an Aged Payable, but reconciled in the bank using 'create transaction', creating both a bank transaction and an invoice against the same item.
Dismissals
Dismissing duplicate transactions means that Dext Precision will no longer count that combination of invoices and transactions for that contact to be a potential duplicate. Dismissed items do not contribute to the Health Score. Any dismissed duplicates can be viewed by selecting dismissed from the filter at the top of the screen, where you can then review and undo any accidental dismissals.
You can dismiss multiple duplicates at a time by selecting 'Select All' above the list, or by using the circular checkbox on the right of the card (on the right of the Dismiss button) on all duplicates you would like to dismiss, and then click 'Dismiss (X) Suggestion(s)'.