Dext Precision tackles all sorts of accounting insights and spots many kinds of errors. These are organised into Checks, which you can think of as individual tools or tasks that require review by someone.

If the Check has a down-arrow on the right-hand-side, then it can be expanded to show more detailed information by clicking on the card:
Some Checks have additional configuration options that can be adjusted while you are in Flow Mode. These Checks have cog icons beside their title. Clicking on the cog will bring up the options that can be adjusted: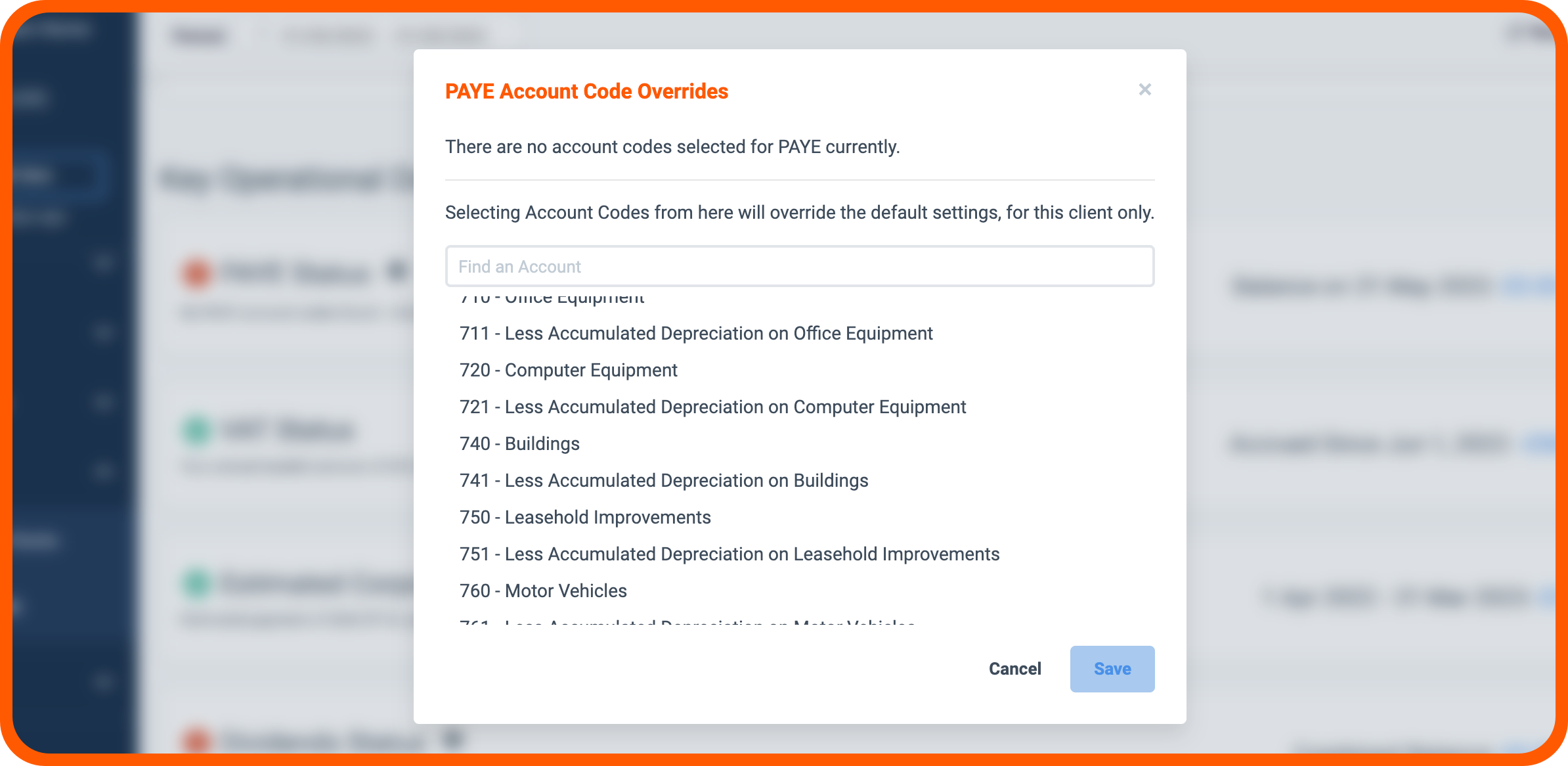 Sometimes if a Check raises an alert then you are prompted to take action and fix whatever Dext Precision has found to be the issue. Focus provides a library of these Checks that can be combined together into Flow Templates.
---
Check Master List
A list of all checks available in Dext Precision:
| Check Name | Description | Xero | QuickBooks |
| --- | --- | --- | --- |
| Aged Receivables | A review of your aged receivables balance, find out who is late in paying you! | Yes | Yes |
| Average Debtor Days | The Debtor Days ratio shows the average number of days your customers are taking to pay you. | Yes | Yes |
| Bank Reconciliation | This shows the total of unreconciled transactions across all bank accounts in Xero, as well as the oldest item. Ideally, all transactions should be reconciled as quickly as possible. | Yes | No |
| Aged Payables | A review of your aged payables balance – the invoices you have not paid yet. | Yes | Yes |
| Client has paid PAYE | Confirm with the client that they have paid PAYE as per HMRC | Yes | No |
| Contact Defaults | Search each Contact's transaction history to suggest default reporting codes or VAT Rates which are then pushed back into Xero. | Yes | No |
| Cost by Account Code | Designed to analyse the activity in the General Ledger over time and automatically detect issues. | Yes | Yes |
| Customer Reliance | Monitor business reliance on key customers and assess associated risk. | Yes | Yes |
| Dividends Status | Keep track of who has declared dividends, how much they have declared and when they declared them. | Yes | No |
| Dormant Accounts | Give your chart of accounts a spring clean – review all of the account codes which have not had activity in a while and archive them. | Yes | Yes |
| Draft Invoices | Highlights any draft bills or sales invoices in Xero | Yes | No |
| Duplicate Contacts | Duplicate contacts go through all your Xero contacts and matches contacts that we think are the same supplier or customer. | Yes | Yes |
| Duplicate Transactions | Dext Precision looks across invoices and bank transactions and highlights records that it thinks could be unwanted duplicates. | Yes | Yes |
| Entertainment Accounts | A useful tool that tracks your spend on client and staff entertainment and will let you know if you have breached any thresholds | Yes | Yes |
| Estimated Corporation Tax | A simple Corporation Tax estimate to keep track of how much tax your client needs to pay. | Yes | No |
| Estimated VAT | An estimation of VAT liability for the period | Yes | No |
| Fixed Asset Account Reconciliation | We will take your fixed asset balance compare it to your balance sheet balance, highlight imbalances and then tell you the date that the imbalance started. | Yes | No |
| Fixed Asset Accounts | Checks that Fixed Asset Account Types match up to a corresponding General Ledger Account | Yes | No |
| Fixed Asset Depreciation Reconciliation | We will take your fixed asset depreciation account and compare it to your balance sheet depreciation account, highlight imbalances and then tell you the date that the imbalance started. | Yes | No |
| Fixed Asset Depreciation Run Date | Shows you the last time depreciation was run. | Yes | No |
| Fixed Asset Drafts | Review all draft assets to check none need to be published to balance the register | Yes | No |
| Historical Changes | Detects changes in a defined period of historical data, since a defined date (such as a filing date). | Yes | No |
| HMRC Status | Filing and Payment amounts and dates, direct from HMRC | Yes | No |
| Lock Dates Status | Track changes to Xero's lock dates and combine with account filing information from Companies House (where available) to help you keep Xero data stable | Yes | Yes |
| Multi-Coded Contacts | Multi-coded contacts searches through your contacts history to highlight where a contact has been coded against multiple account codes of VAT rates. | Yes | Yes |
| Net Assets | Keep track of net assets over time, and compare current status with previous periods. | Yes | No |
| Overpayments | Stay on top of overpayments | Yes | Yes |
| PAYE Status | Ensure the PAYE control account is behaving as it should. | Yes | No |
| Payroll Status | Ensure the Payroll control account is behaving as it should. | Yes | No |
| Pensions Status | Ensure the Pensions control account is behaving as it should. | Yes | No |
| Regular Suppliers | Designed to analyse payments to suppliers over time and automatically detect issues. | Yes | Yes |
| Revenue Movement | Keep track of revenue over time, and compare performance with previous periods. | Yes | Yes |
| Supplier Reliance | Monitor business reliance on key suppliers and assess associated risk. | Yes | Yes |
| Tax Review By Code | Review all transactions for the period over a certain value, grouped by sales tax code | Yes | No |
| Transactions with Attachments | Review attachments for all transactions over a certain value for the period | Yes | No |
| Transactions without Attachments | Review all transactions per the period over a certain value that don't have attachments | Yes | No |
| VAT Balance Sheet Review | For VAT Review – highlights any Balance Sheet transactions with sales tax applied | Yes | No |
| VAT Control Account | Review the balance of the VAT Control Account against pending liabilities | Yes | No |
| VAT Expense Account Review | For VAT Review – highlights high-risk Expense transactions such as Entertainment, Printing and Travel | Yes | No |
| VAT Revenue Account Review | For VAT Review – finds Revenue transactions that have a non-revenue tax type | Yes | No |
| VAT Scheme Threshold | Compares rolling turnover with the business's VAT Scheme thresholds to ensure compliance | Yes | No |
| Xero Activity | Monitor for sales and bills activity within Xero and raise alerts if none are detected for 30 days | Yes | No |