Adding a Dext Solo client account will create a dedicated space for you to manage the income source data for each individual you assist in reporting earnings to HMRC.
The same user privileges that exist in Dext Prepare apply in the Solo section. If you are not an Admin user you will not be able to add a Dext Solo Client account. See more on user privileges here.
To create a Dext Solo client account:
Go to the Solo space in the sidebar, then Clients.
Click + Add client in the top left of the page.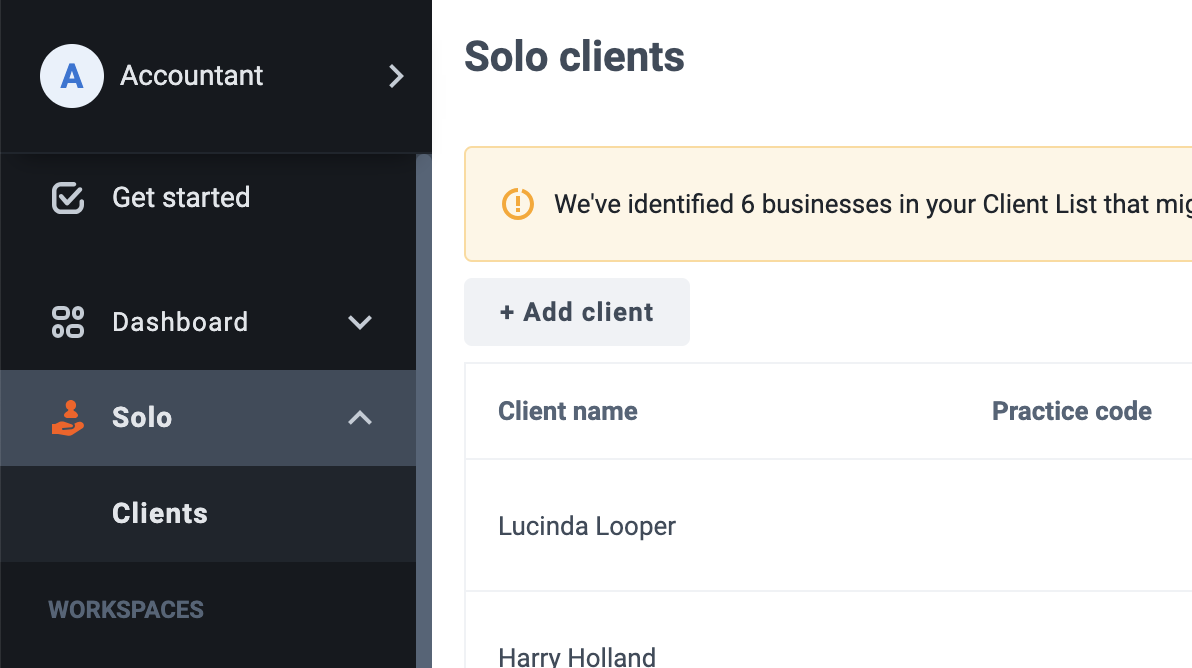 Enter the client's name and email address (adding the NIN, Postcode & Practice code is optional), then click Next.
On the next page enter the Business name.
A business is the entity for which you will collect income source documents. This entity could be a Sole Trader, Property Business, Partnership, Limited Company etc.
A client may have multiple businesses or properties, so if needed you can add additional businesses after the first entity is added.
Select the Type of Business.
A business is the entity for which you will collect documents. There are two options:
Self employment: for a Sole Trader, Partnership, Limited Company etc.
Or UK Property: for a property businesses operating in the United Kingdom.
Then select the Transactions Collection Method for transactions.
A transaction Collection Method is the type of documents you'll be submitting to Dext, and will determine how you add transaction data to Dext. There are two collection method options:
Costs/Sales: add receipts and invoices to the costs & sales workspaces through various methods, including uploading items via the desktop or mobile app and via email.
Or Bank: add transaction data by connecting to a bank feed or uploading a bank statement. A bank feed will import historical transactions as far back as the bank will allow.
If a client has multiple businesses or properties you can add another to their account by clicking Add another business.
When you are finished adding a business or businesses, click Next.
On the next page, review the email that will be sent to the client, and add the client's mobile number if you wish to send them an invitation by text. When ready, click Invite to Dext.
You will then see the new client account listed on the Dext Solo Client page.
Help your client get started in the Dext Prepare Solo area by sharing this getting started guide with them.