The Activity Stats view is a data set for Precision's performance metrics from the Activity Stats Insight, month-by-month for the last year. This includes MoM and YoY changes, so you can check which of your clients are under – or over – performing.
---
What you need to know
Note that the Activity Stats dashboard defaults to the data from the last complete month and works backwards from there.
You are not able to customise the reporting period at this time.
There are 2 types of Activity Stats. The first one is found under each client in the Insights section called Activity Stats and looks at the individual client transactions which can be run for whatever period you want to view.
The second one is this one. Practice Analysis called All Client Activity Stats. This is a consolidated view of ALL clients and shows total transactional activity by annual, average by period and change by month on month (MoM) and year on year (YoY) by total count and by % increase/decrease. Great to use when reviewing pricing across types of clients ie those in a Bronze, Silver bundles by filtering by Client Tags.
---
Using this Dashboard you can create reports that will help you analyse the number of transactions across all your clients and the % of change month on month (MoM) and year on year (YoY).
There are benefits for your practice:
Use the information to conduct more informed pricing reviews regularly not just once a year.
Due to the visibility you will have to conduct these pricing reviews you may find some opportunities to increase your prices.
We do all the calculations for you for all clients so you don't have to manually run this transaction activity in your G/L one client at a time.
Integrate with Go Proposal and create data driven pricing experience for your clients.

---
The Activity Stats Dashboard has spreadsheet-like functionality. You can choose the columns you want to see and filter the information specific to the purpose of the report, such as by a Client Tag for specific Pricing Package, ie 1-100 transactions, 101 – 200 etc.
For example you can create a report that shows activity for a client tag you have created called 101-200 (transactions). This will enable you to check that the group of clients that pay for 101-200 transactions per month are still operating at that transaction level or have gone over to the next pricing bracket which will require a pricing review meeting and price increase.
Under custom reports we have created a template report that you can use called Client Activity Stats Review.
Let's take a look how you can build this type of report yourself below.
To access the Activity Stats Dashboard go to Team Home – Practice Analysis – Activity Stats
To build this report I selected the following:
Under Columns (to the far right of the report)
Client Name – (which I pinned to the left so so I could scroll the report to see all other columns. To pin a column select the 3 lines at the top of the column and choose Pin Column – Pin Left)
Last Sync – important to know when the last time the clients file was synced with Xero/QuickBooks Online
Health Score – helps to get an understanding of how healthy the client is and what support may be needed
Year End – this will help priortise client work if preparing a bookkeeping for a year end
Account Manager 1 – informs you who is responsible for this client for any queries you may have
Tags – ensure you have added tags to your clients then this will allow you to filter the report by 101 -200 tag. (see screenshot below showing how to do this)
Annual – this will pull in the current period, annual turnover, annual view of Sales, Bills, Credit Notes, Bank Transactions and Annual Total. UntickManual Journals in this section if you don't want to include it in your report for transaction purposes. (Note: if your client has not been synced to Xero recently it will show the last period that was synced this may be why your periods are different in the report and not all the current period)
Average – this will pull the data for Average monthly – Last 12 months for Turnover, Sales, Bills, Credit Notes, Bank Transactions and Total Average Monthly. UntickManual Journals in this section if you don't want to include it in your report for transaction purposes.
Ensure the rest of the columns are unticked Month 1 – Month 12. You could build a different report if you want to review by month activity but for the purpose of this report example these sections have been unticked.

---
We mentioned above that you may want to use filtering to show the data for Client Tag called 101-200. To do this select Filters to the far right of the report under Columns and choose Tag then type in 101-200. This will change the report to only show activity stats for that cohort of clients.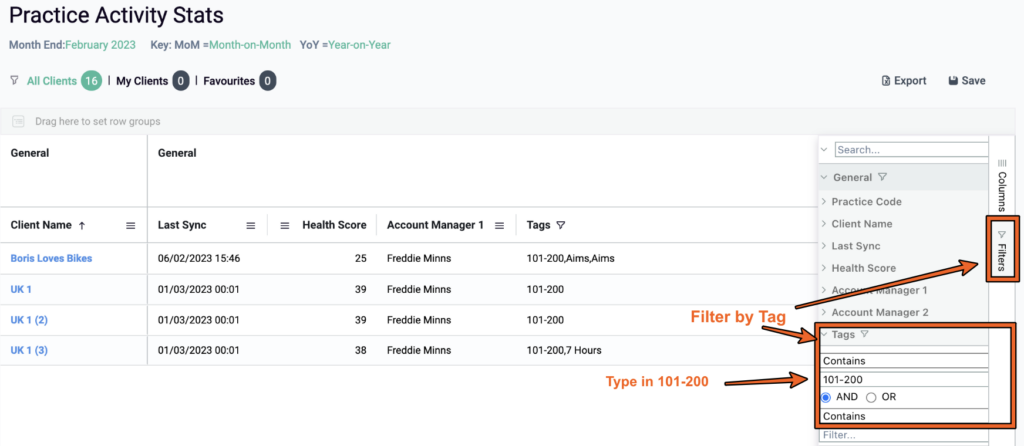 ---
You can save or export your configurations to Excel, using the buttons in the secondary navigation at the top right.

You can save these configurations in your Activity Stats Dashboard by selecting save. You'll need to give your dashboard a name, then decide whether to keep this report configuration private, or share it with the rest of your team. Saved dashboards can be accessed by selecting Custom Dashboards in the sidebar. Just like custom reports, they can then be edited, favourited, or deleted from this view.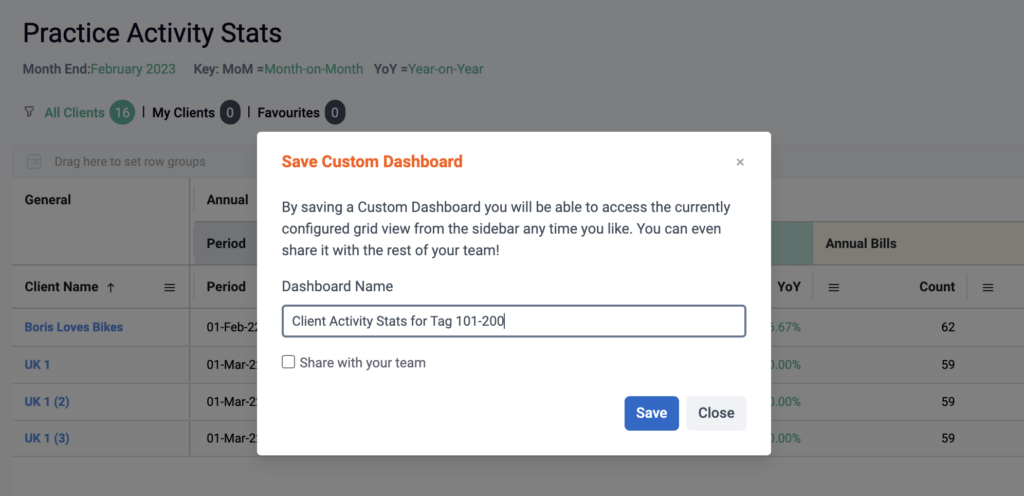 ---
Next Steps:
Take a look at Practice Dashboard to learn how you can create reports that will help you analyse the Health across all your clients enabling you to identify possible issues which will assist you to make improvements to the quality of their bookkeeping.