Our Insights Dashboard provides a summary of key metrics providing visibility over our most valuable insights to help you advise your clients and to support the productivity of your team and practice.
---
Watch our interactive tutorial below by clicking on 'Start Tutorial'
The video below walks you through of how the dashboard works and details behind each of the insight views.
(Please note in the video we refer to the section to find Insights Dashboard as Practice Analysis. This will be known as Practice Dashboards from December 2023, all other information in the video remains the same.)
---
Summary of information covered in video above
---
What you need to know:
If you come across a widget that seems to be lingering in loading, go ahead and give the page a refreshing boost. Brace yourself though, as it could take a few minutes depending on the hefty amount of data that the widget is tirelessly processing.
---
Value to your Practice
Save time – Gain faster access to essential client data encompassed within our diverse dashboards in Precision. With this dashboard, manual searches through different client areas in Precision become a thing of the past, granting you immediate visibility into valuable insights.
Enhanced Visibility – Immerse yourself in monitoring five crucial client metrics at both a firm-wide and client-specific level. Additionally, you have the power to delve deeper into the top-level data for a more comprehensive understanding of the results. This seamless access enables swift and informed decision-making.
Proactive Problem Identification – Uncover potential issues before they escalate into costly complications. The data presented allows for swift identification of areas that demand closer inspection at the client or practice level, or perhaps both.
---
This dashboard contains 5 widgets listed and explained below:
Each client in Precision displays a Health Score reflective of the data quality for that individual client.
The Insights Dashboard will reflect an average Health Score across ALL your clients on Precision.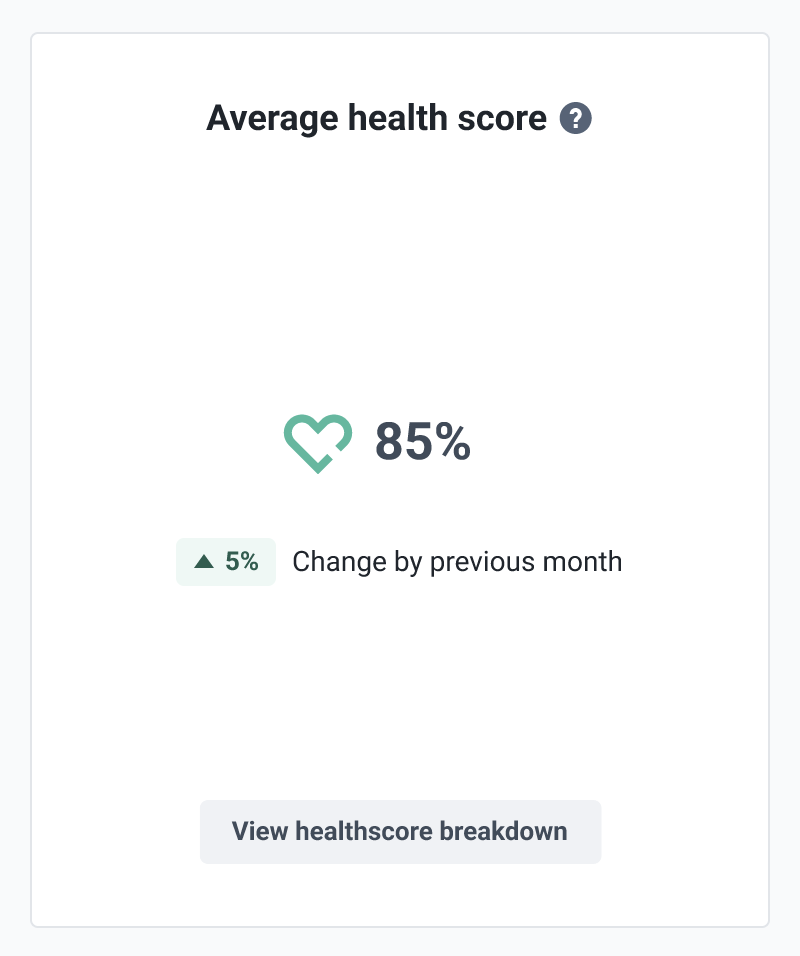 From this widget you can click on

to see a list of your clients individual Health Scores along with Health Score performance in the past 30 days reflecting the change on a month on month basis.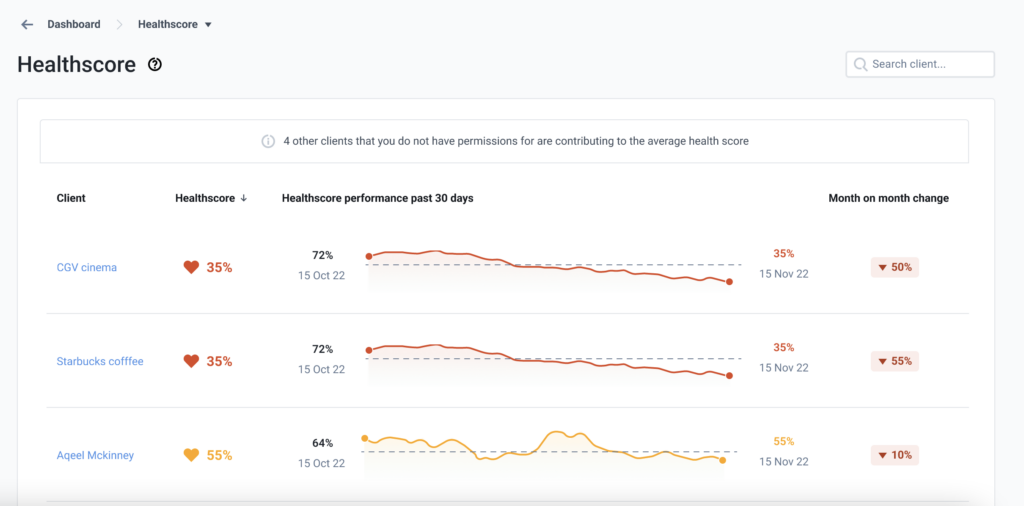 Benefit to your Practice
This tool is essential for identifying problematic clients and uncovering recurring issues that can be addressed to enhance the overall quality of your entire client base. By setting an average Health Score target for your Practice, you can boost your confidence in the data you work with and unlock significant productivity gains.
---
This widget offers comprehensive visibility into the status of your flows, categorizing them into three segments: overdue, due within 7 days, and upcoming (not yet due). Within each segment, it further identifies flows that have not started, are in progress, or in review. This holistic view provides you with a complete overview of your team's workload for the next 7 days, enabling you to identify any potential delays or bottlenecks. In case your team falls behind schedule, this insight allows you to reassign tasks or assess capacity to ensure timely completion of the work.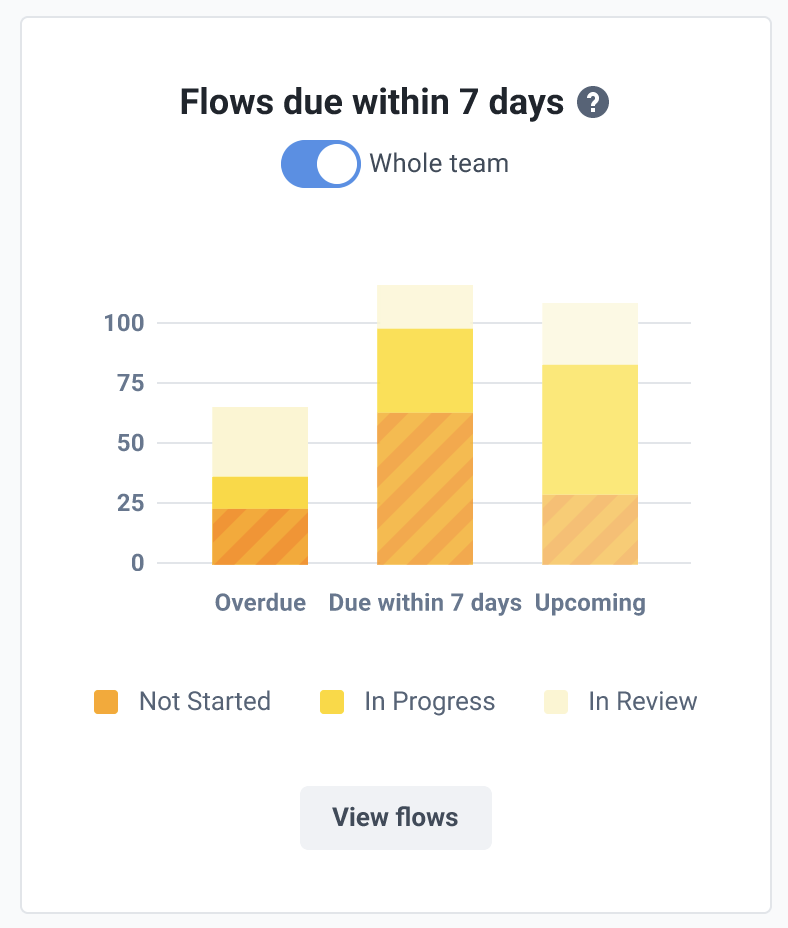 Click on

to see the breakdown of your flows in order to identify the clients and team members assigned.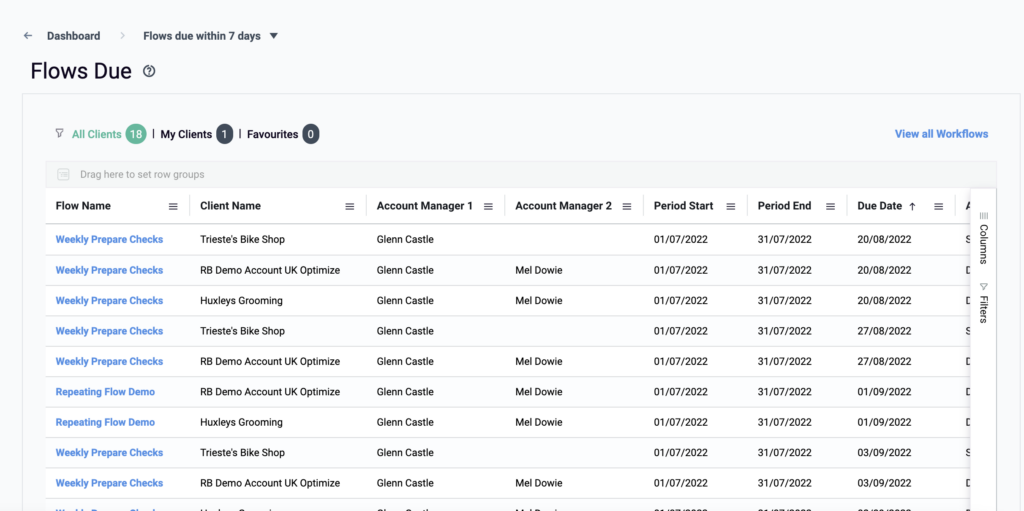 Benefit to your Practice
Stay efficient by maintaining visibility and control over your workload, especially during remote working times. Managing productivity and meeting deadlines can be challenging, particularly with larger teams. Our widget provides the necessary visibility to help you stay on top of things, ensuring productivity and timely completion of tasks.
---
In this widget we show the total number of transactions by month over the previous six months across all clients, visually grouped by type of transaction.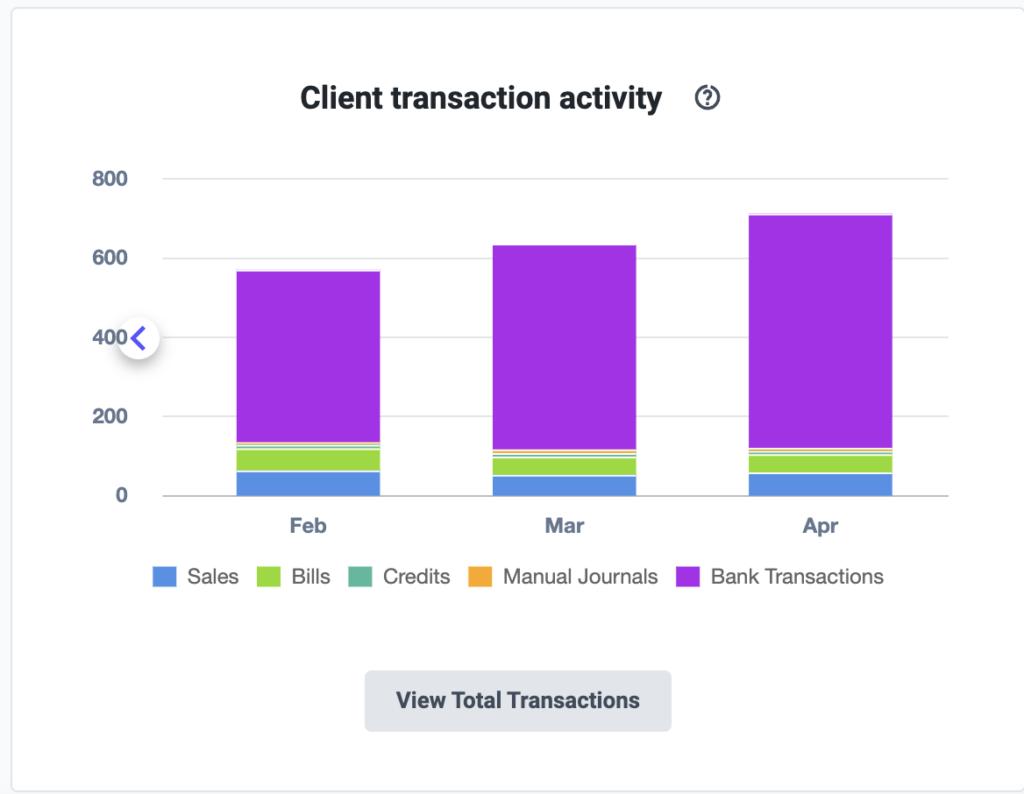 Click on

to review a breakdown of the clients and their transaction volumes for Bank, Sales, Credit Note and Bill.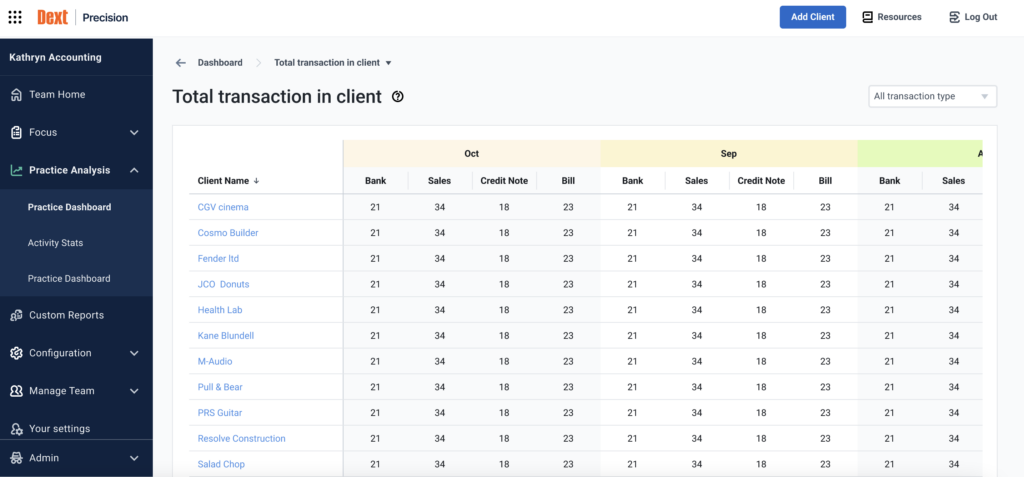 Benefit to your Practice
Gain valuable insights into transaction volumes across all your clients within a specified date range. This information helps you understand the workload that your bookkeeping/accounting team needs to handle, allowing you to determine appropriate pricing and resource allocation for managing the workload effectively.
---
This widget will allow you to keep a close eye on lock dates in Xero & QuickBooks Online. This is important to ensure the the data is treated correctly in the correct periods avoiding time spent correcting data posted to filed periods.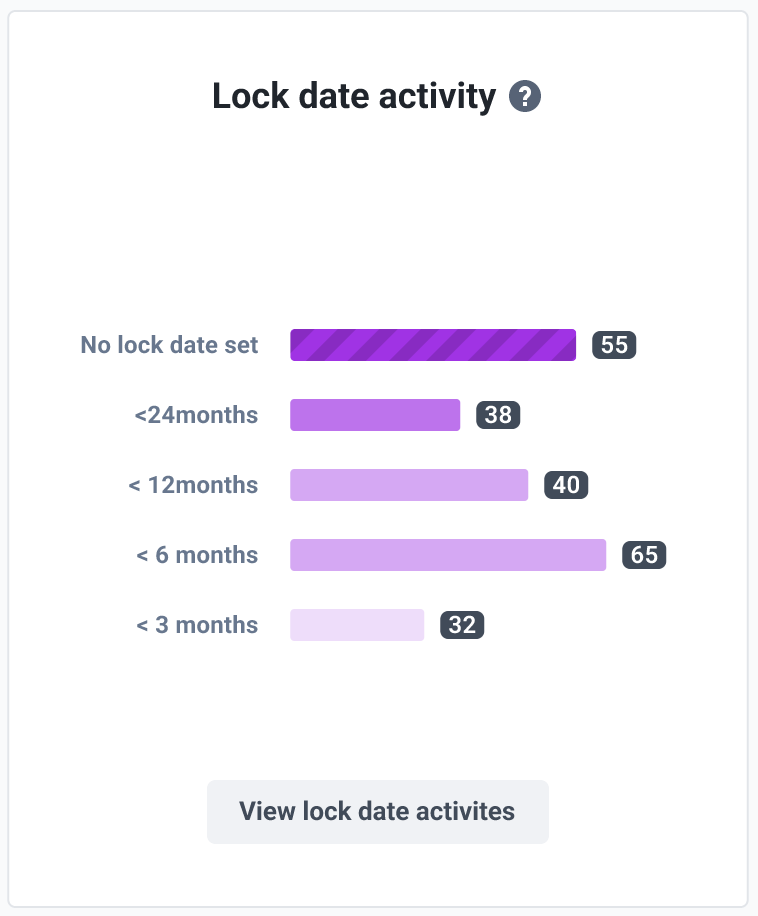 Click on

to see a list of all clients by Accounting Software integration, Reporting Lock Date (Xero Only), Year End Lock Date (Xero & QuickBooks Online) and Last Companies House submission date.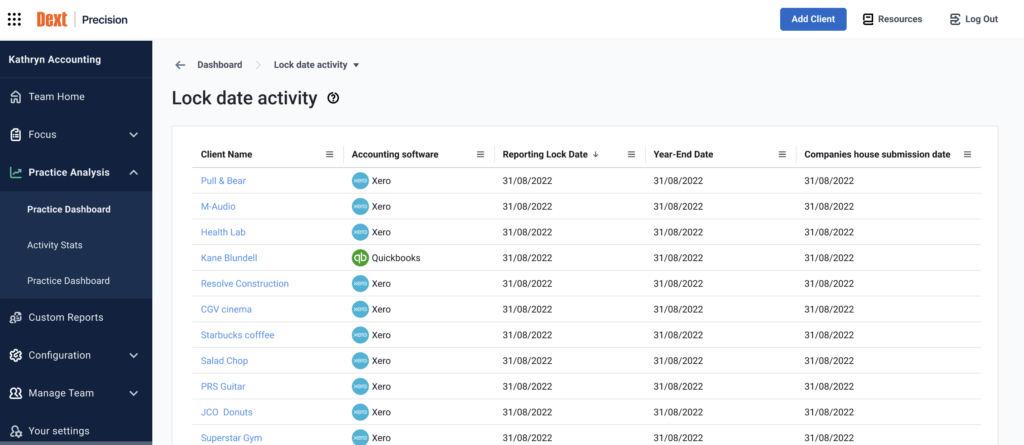 Benefit to your Practice
Ensure that all submitted financial data is securely locked to prevent the time-consuming task of reworking data in an unlocked time period, such as during year-end submissions. Avoid wasting valuable time by implementing a robust review process for Lock Dates, eliminating the need for unnecessary data revisions.
---
The widget gives you visibility over our Directors Loan Account check by the number of non-configured clients, configured but not overdrawn and configured but overdrawn. Tracking DLAs is something that is underserved by accounting softwares providing you lack of visibility on a timely basis for this information to help support your client's and their tax planning.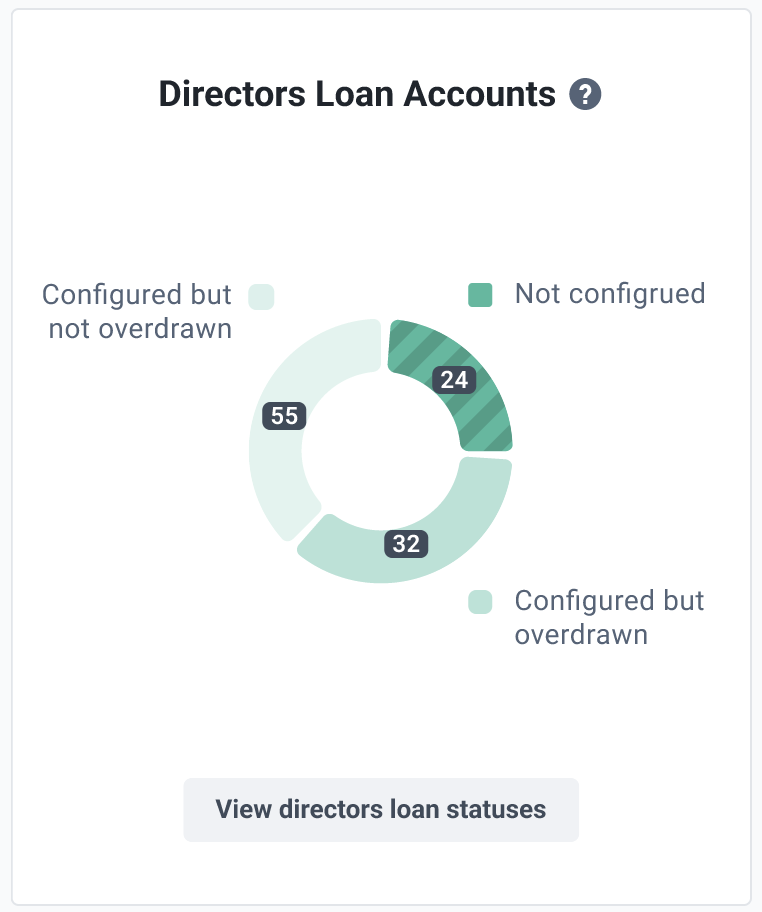 Click on

to review the clients and their status on configuration for this check. This information is shown by DLA Configured, Dividends configured, Dividends declared and what their Year End date is.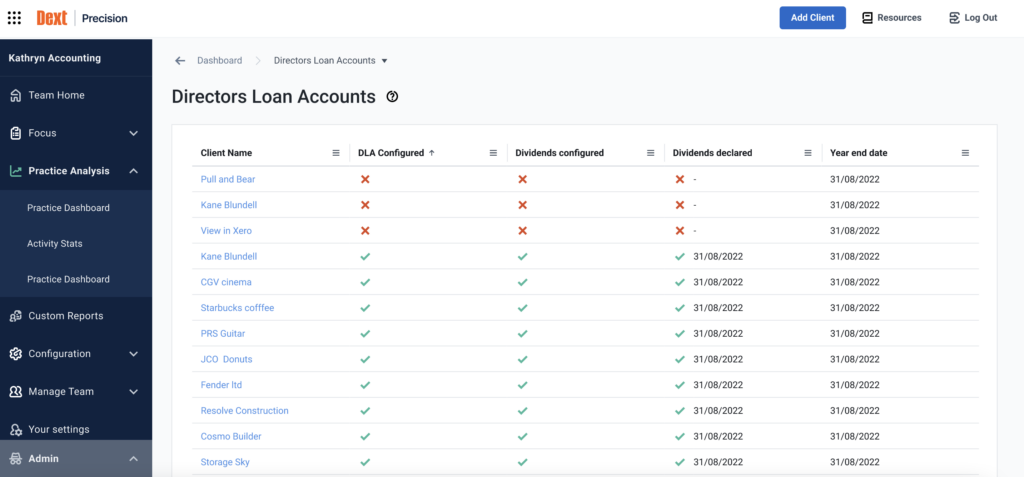 Benefit to your Practice
Detect clients who have not configured their tracking for Director's Loans, enabling you to take proactive measures by engaging with them. This engagement provides an opportunity to discuss and address any overdrawn Director's Loan Accounts (DLAs) to help clients avoid potential penalties.