Dext Precision is the essential toolkit for Accounting & Bookkeeping practices, no matter the size. By providing simple data cleanup tools, Precision helps you eliminate costly tasks like looking for errors or taking action retrospectively.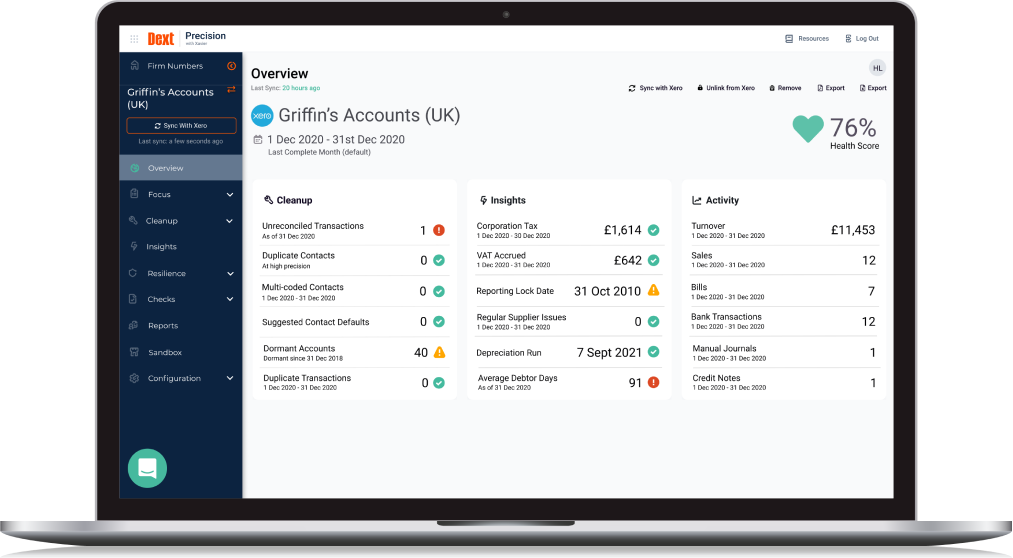 Using high-quality accurate data, Precision's deep performance analytics and advisory insights will help you strengthen client relationships, upskill your practice and – thanks to more billable advisory – increase revenue, too.
What Precision does:
Once clients are connected, Precision automatically syncs with your accounting software, pulling all transactional data into our system.
This allows Precision to:
Give a diagnostic health check on the quality of the ledger data through a health score;
Spot transactional errors in transactions;
Identify potential issues in the Fixed Asset register or control accounts;
Create powerful pivot table style analytical reports, to sort and filter transactional data;
Build checks into workflows that fit into your regular Practice processes, such as onboarding, bookkeeping, VAT returns and year-end processes;
Give a practice dashboard overview to allow you to view information across all clients in your practice
Principal use cases:
Onboarding and Pricing Clients – Save time when onboarding. With your client's Health Score you can quickly understand the state of their books and view transactional volumes to drive more profitable pricing.

Grow your services – When you trust your data, you can do your job more effectively. Turn real-time data into bespoke client reports. Build advisory insights as part of your regular client check-ins, adding value and boosting the billable services you can offer.

Boost productivity – Precision's Focus dashboard allows you to see all your practice performance in one place, so you can easily set and track KPIs, manage your time and grow your business.