This is a guide how to connect your Sage 50 account with the Dext Connect desktop application.
Important: To be able to integrate with an accounting software you must have Administrator level User Privilege access. If you cannot see the Connections section in the sidebar it means you don't have this access. Reach out to your account administrator or accountant/bookkeeper to request access.
Please note: this integration is currently available to users in the UK only.
---
System Requirements:
Windows 8 and above
4GB RAM
Sage 50 2015 or newer
You must must be an administrator on your local computer or server
You must have a separate user account set up in Sage 50 to perform the integration with
You must be able to whitelist Dext Connect on your antivirus or firewall software
Installation location
You must install the Connect application in a location where:
It is turned on and has access to a stable internet connection whenever Dext Prepare needs access to Sage 50
Stable access to the Sage 50 client files, ideally on the same computer or server that Sage 50 is installed on
If you are using Dext Prepare with a client, Dext Connect should be installed where the client's files are. This may be your client's machine.
If you are using Sage 50 on a virtual machine or remote desktop environment, work with your IT team to ensure the Dext Connect application will be online when you are working with Dext Prepare.
There are 4 main steps to follow to complete this process:
1. Download and install Dext Connect
4. Use Dext Connect to review and publish documents
To download and install Dext Connect follow these steps:
1. Download Dext Connect here:
https://releases.receipt-bank.com/desktop/DextConnectAppSetup.exe
2. Double-click on the file to start the installer.
2a. When installing, Windows might display the following message: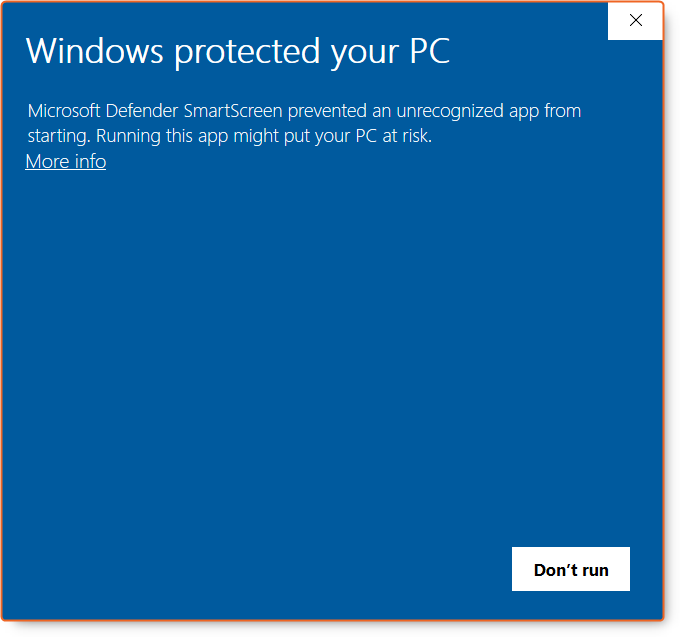 This is common for new software that has just been released. To continue click More info and then select Run anyway.
Agree to the License Agreement and select the installation folder. This must be on the same computer or server as Sage 50 is installed on.
3. Once installed, start the application (there should be a shortcut on the desktop) and log into a Dext Prepare account. This account should have access to all of the client accounts that you want to integrate with Sage 50. Any integrations performed on the app are only available when the account that performed the integration is signed in.
You should also make sure not to integrate the same company file on two different instances of the Connect app if you need to have it installed in multiple locations.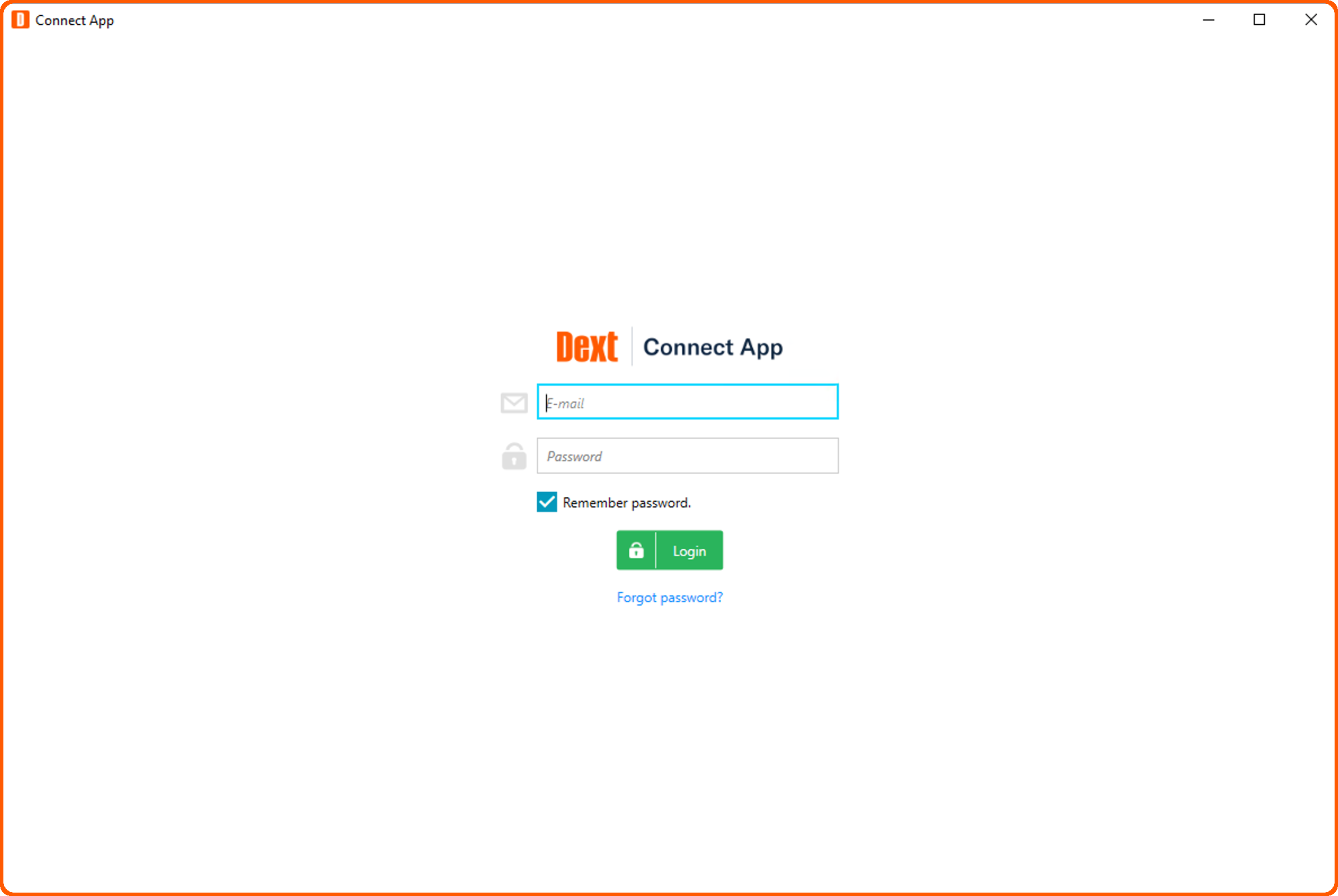 Create a new user in Sage 50
Before you can integrate Sage 50 with Dext Connect a new user must be created in Sage 50 to act as the connection between the two pieces of software.
Important: Each client file you integrate with must have its own dedicated user for Dext Connect.
To create a new user, log on to Sage 50 and into the company account that you would like to connect.
1. Click on Settings then click Access Rights and then New
2. Complete the details for your new user, ensure they have full access and then click OK 
If you are unable to add a new user, you need to enable Access Rights. To do so follow these steps:
Click Settings then click Company Preferences and click Parameters.
In the Others area select the Access Rights check box then click OK.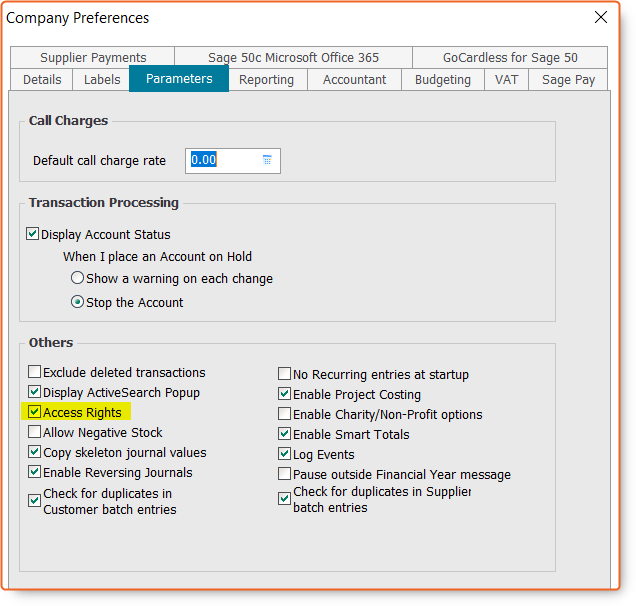 Complete the integration
Return to Dext Connect and follow these steps:
1. Select the account that you wish to connect and click on the green Integrate button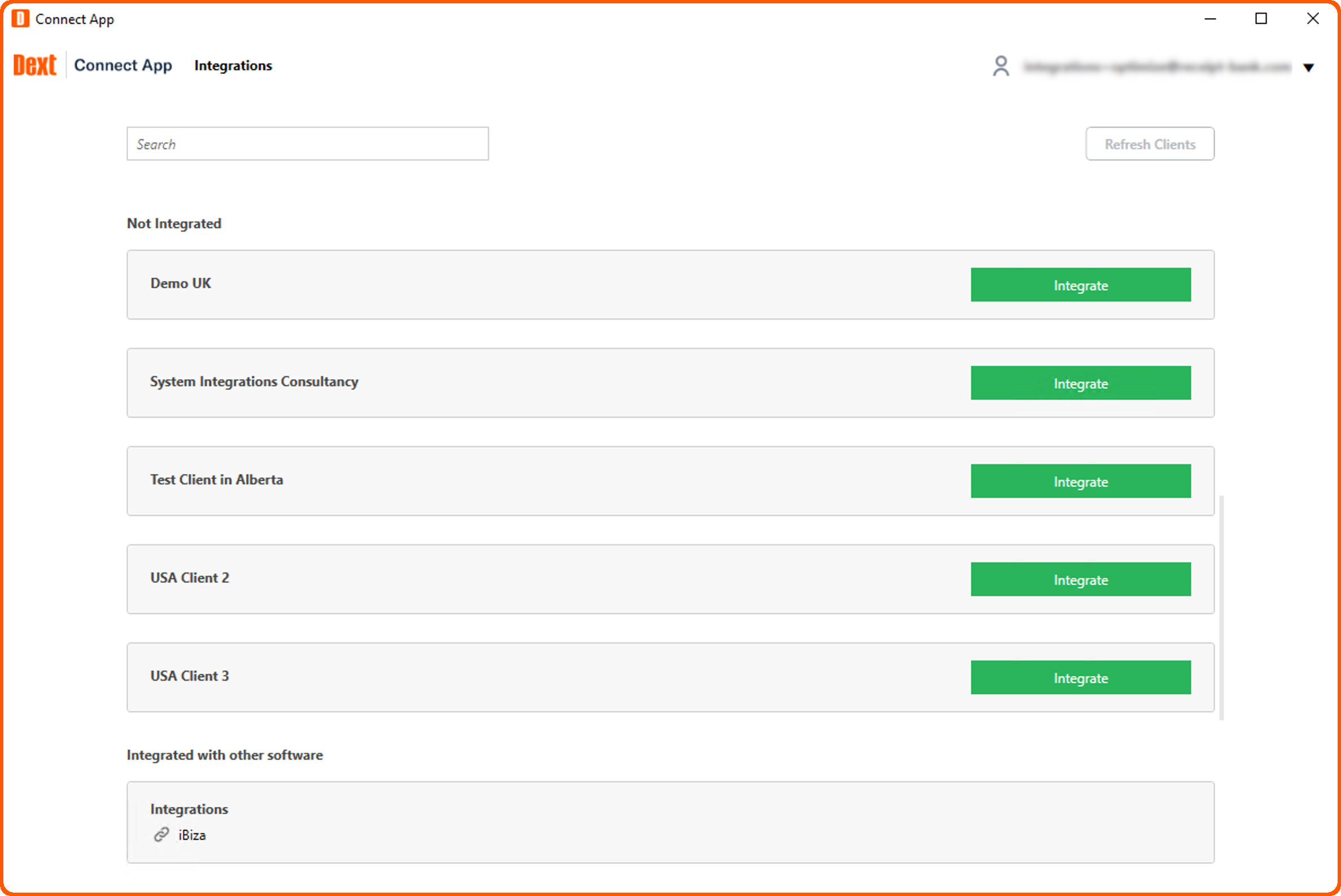 2. Select the Sage 50 application from the list of available applications and click OK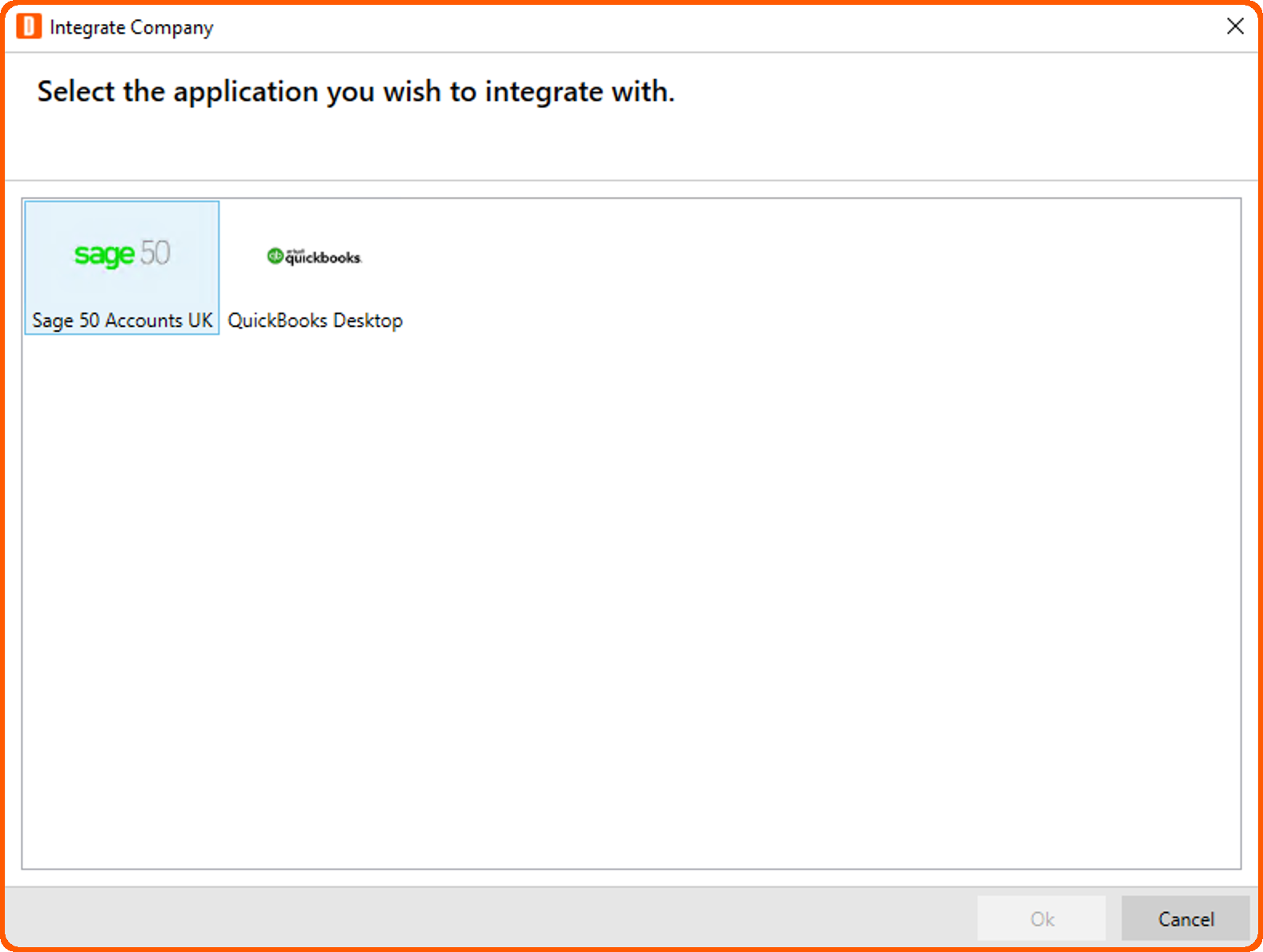 3. Click the Select Company button and browse to find the folder of the Sage 50 company that you want to integrate and then click Next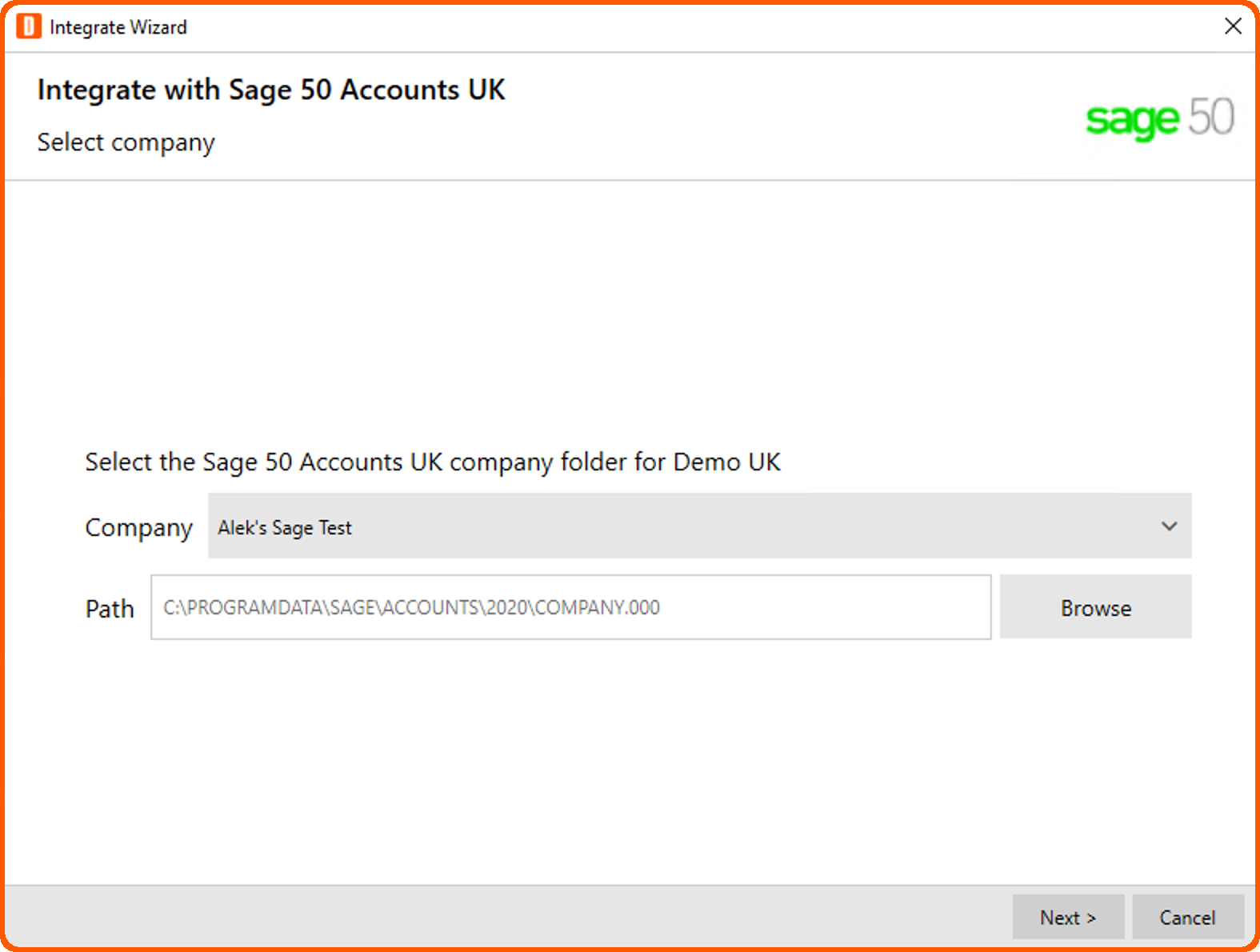 4. Log in to Sage 50 using the new user credentials that you created earlier and click Integrate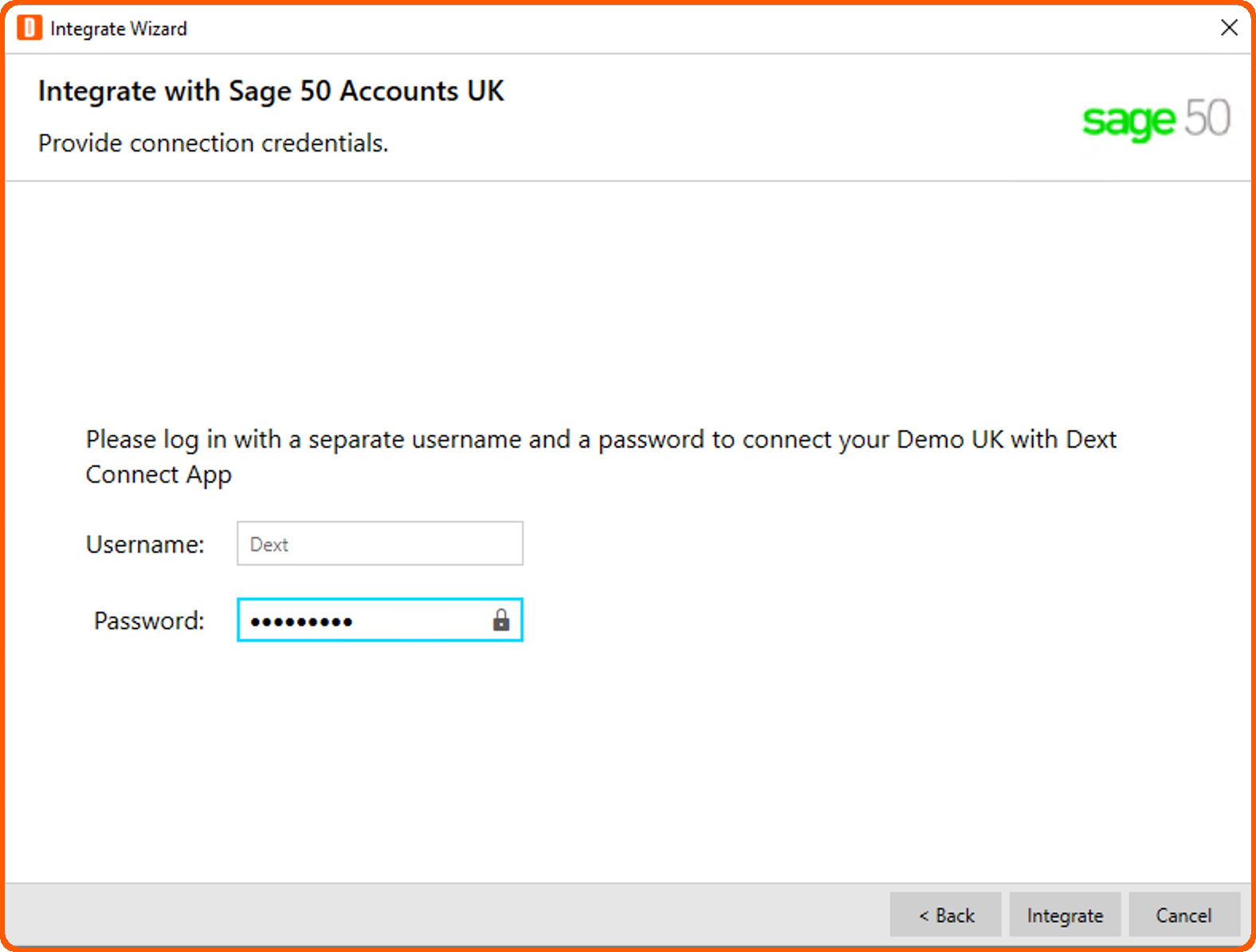 5. On the next screen choose the tax status of this account, including default tax codes, default cost codes and whether multiple currencies should be published to this account.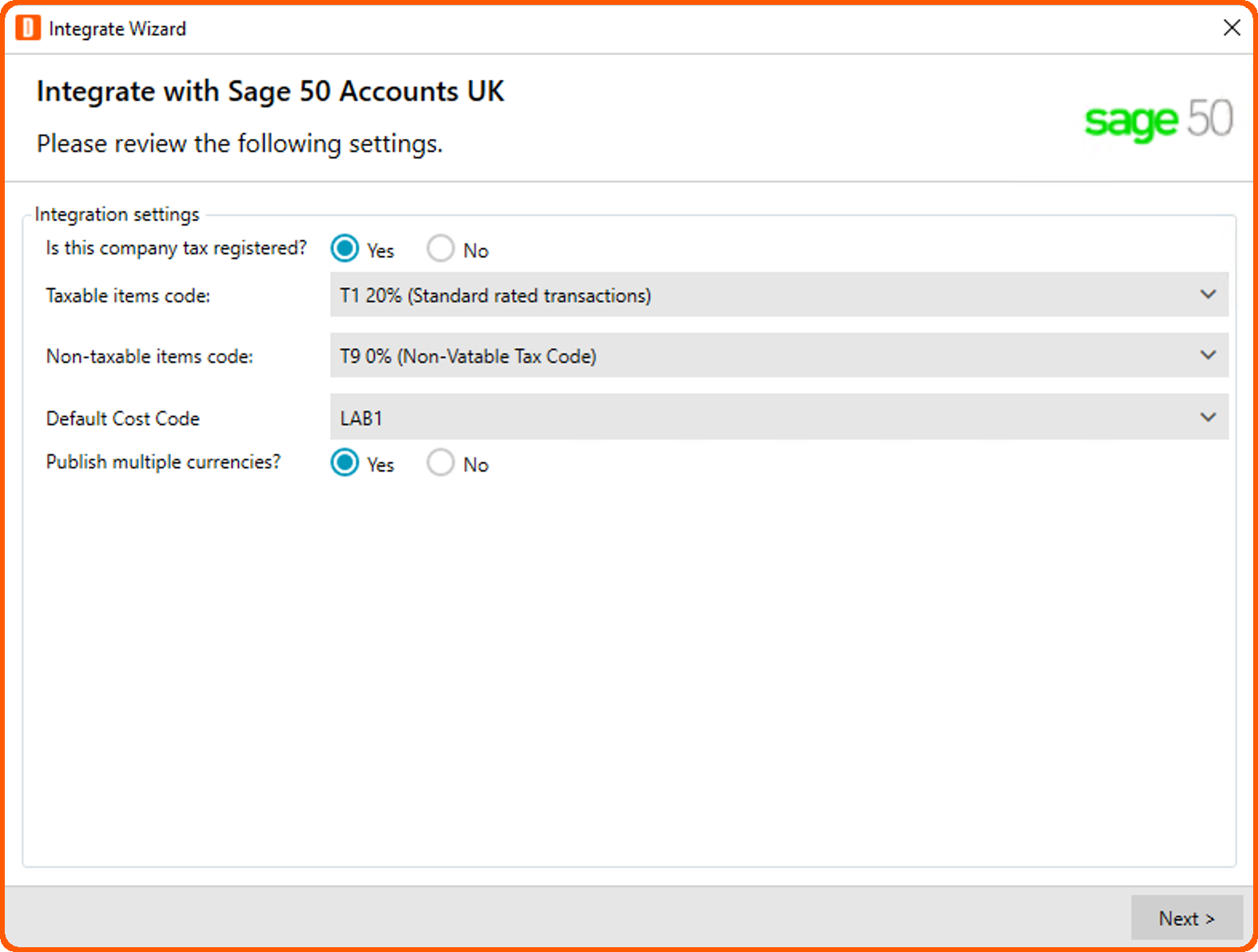 6. Click Finish on the next screen.
7. If you need to change the tax settings, access the client account on the Dext Prepare web application and Connections, then click Integrations.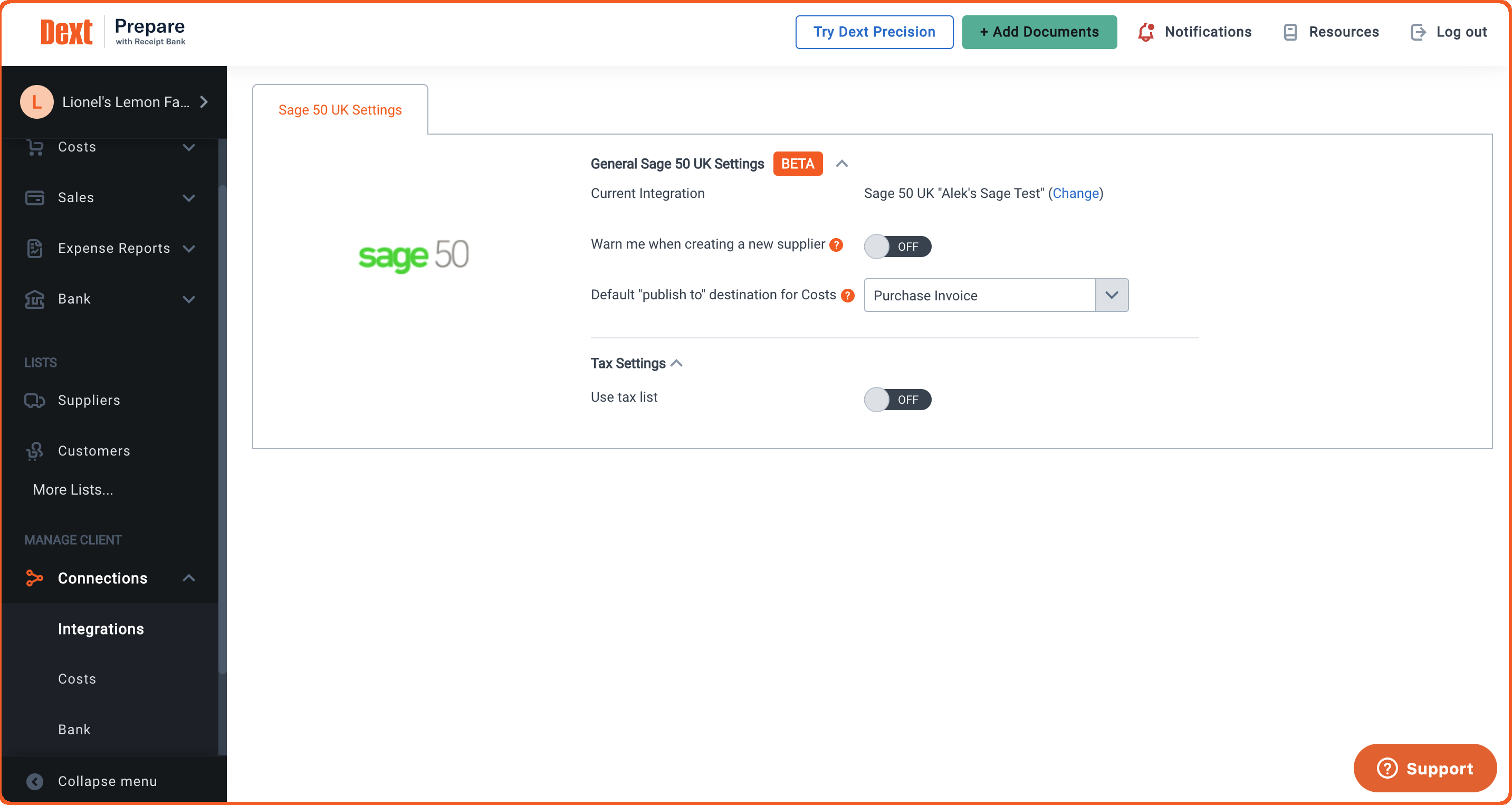 How to review and publish documents to Sage 50
Once your accounts are linked with Sage 50, you – and any of your colleagues – will be able to publish documents to Sage 50 as long as the Dext Connect app has internet access.
We recommend that you use the Dext Prepare web application to review documents and publish them to Sage 50, so that you can work collaboratively and in real-time with your clients and colleagues. Set rules and add payment methods to your client's documents as you would with any cloud-based integration.
Published documents will appear in the Transactions List in Sage 50. A link to the document image is included in the Ex. Ref field. Complete the reconciliation process as normal in Sage 50.
Note:
Image sharing
must be enabled in Dext Prepare to see the document image.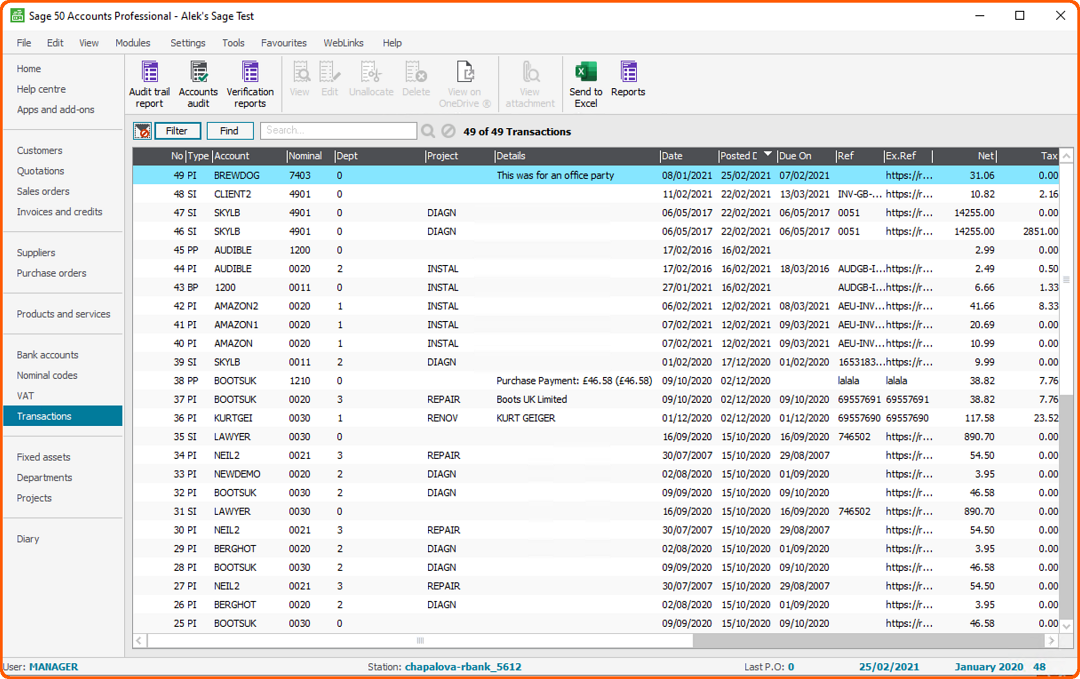 However you can review and publish documents using the Dext Connect application as well. To do so:
1. Click View next to a client's name to access their Dext Prepare account