Dext Prepare Optimize is our advanced Accounting and Bookkeeping platform. It provides high-level insights into performance of your Client Base and Practice and dedicated communication tools to interact directly with your clients.
If you're interested in becoming a Dext Partner, click this link and book a demo with us.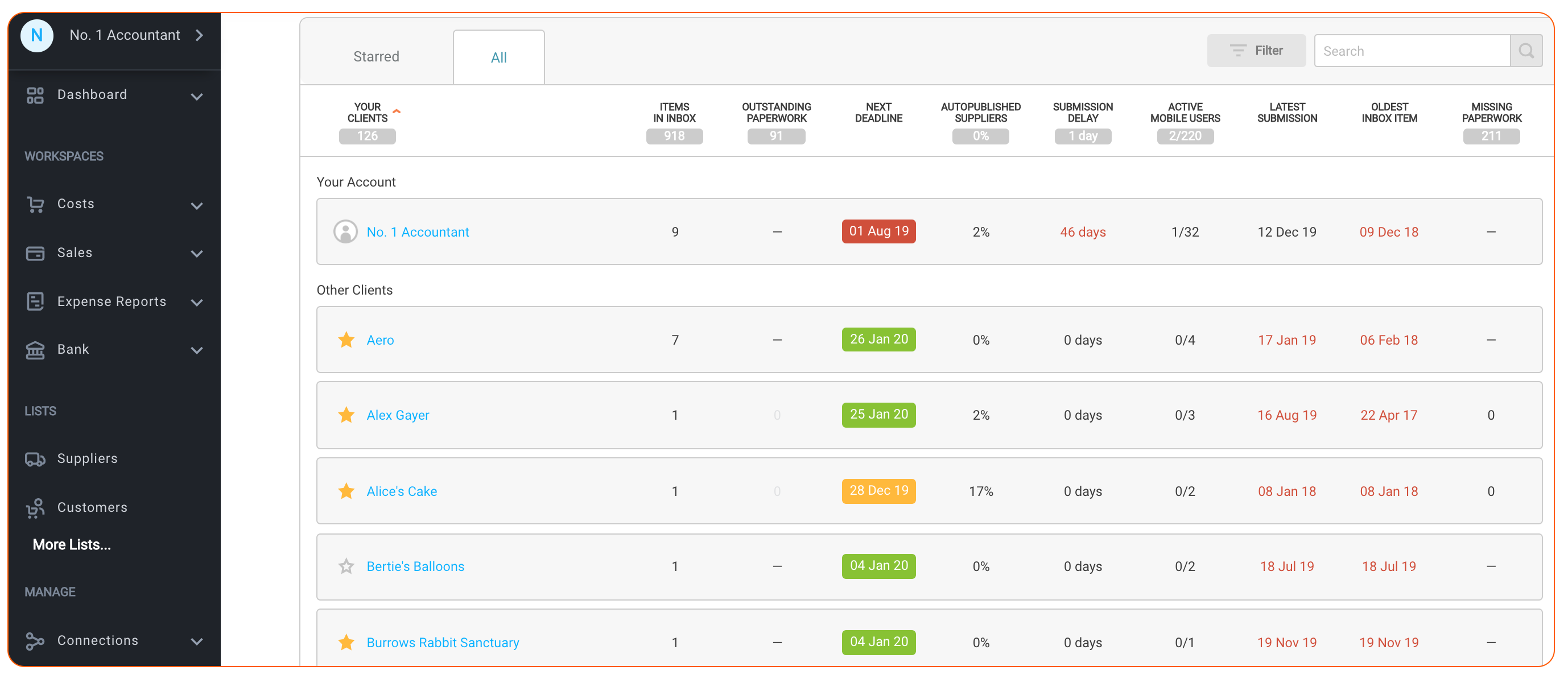 Multiple Dext Prepare Client Accounts, seen on a Dext Prepare Optimize Client View Dashboard.
By subscribing to Dext Prepare Optimize, you get access to:
Your own Dext Prepare Partner Account
Client Accounts, that you create and customize for each of your clients' businesses
A Client View dashboard, which provides detailed metrics about each of your clients' submission patterns
A Practice View dashboard, which provides detailed metrics about the performance of your practice as a whole
Targeted Communication; tools which allow for seamless messaging between you and your client base from within the Dext Prepare Web and Mobile apps
Integrations, which seamlessly sync data between Dext Prepare and;

Xero
QuickBooks Online
Sage Business Cloud Accounting
MYOB AccountRight
MYOB Essentials
KashFlow
FreeAgent
IrisOpenBooks
Twinfield

Additional Publishing Locations for all integrations
Auto-publishing to integrated accounting softwares
Dext Prepare Data Extraction and OCR technology, which automatically reads and extracts written information from paper and digital documents
The ability to Boost processing documentation and speed up the rate of document upload
Line Items on all submitted paperwork
Smart Split rules that automatically split new paperwork into pre-built line items
Supplier rules that automatically add context to supplier-specific paperwork
Additional fields on submitted items to describe;

Customer
Suppliers
Projects
Payment Methods

Invoice Fetch, an automated way to collect invoices and bills from supplier websites.
The Dext Prepare Submission Methods, which allow any Dext Prepare user to submit their financial paperwork using;
Reports that detail payments in your Bank Feed that don't have corresponding paperwork
Expense management for any employee in your, or your clients' businesses
Purchase Order Match, allows you to identify and match Costs items with an existing purchase order in Xero or QuickBooks Online.
A space to manage the financial documentation for your own business
Total control over what each user can access, see and do on Dext Prepare
Total control and visibility of submitted paperwork and how it's coded and described
Control over Client Account preset settings, and the ability to set new defaults for all new Client Accounts
Individual logins for each employee in your practice
Individual logins for each employee in your clients' businesses